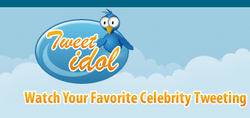 At Tweet Idol, you get to follow all the celebrities in an orderly manner which helps you to read their Tweets easily.
(PRWEB) June 26, 2010
Twitter has become the biggest hub for the celebrities lately. It is like a sky on a clear night which glitters with thousands of stars making it difficult for you to concentrate on one particular star when you have so many of them in front of your eyes. So if you are following plenty of celebrities at Twitter, it will really be difficult for you to focus on one star's Tweets, as all the Tweets will get cluttered up on your home page. But why should you worry when there is Tweet Idol to rescue you from drowning in the Tweet flood!
Tweet Idol is an amazing platform where you get the list of various glitterati in a well organized manner that helps you keep yourself updated with their latest Tweets. "People love to follow the celebrities on Twitter but at the same time they follow their friends, relatives and colleagues. Thus, it becomes really difficult to check out the latest Tweets submitted by a celebrity as all the Tweets get muddled up. But if the Tweets of the celebrities are distinctly listed in a well organized manner, it becomes easy to track the latest Tweets", explained Mr. Ashish Arora, the Co-Founder of Tweet Idol.
At Tweet Idol, you get to follow all the celebrities in an orderly manner which helps you to read their Tweets easily. Mr. Arora says, "Tweet Idol presents the glitterati in a categorized manner. So you can check them in a systematic way. Suppose you follow a movie star like Shahrukh Khan and want to read what are his latest movie plans and at the same time you follow a sports star like Sachin Tendulkar and are eagerly waiting to check his reaction after a match but you get so confused as so many new Tweets come up flashing on your computer screen that you, yourself become unable to decide what to check first. But at Tweet Idol, you can check the movie stars under the category of Bollywood and sports stars under the head of Sports. This way you'll be well organized."
Tweet Idol not only presents both national and international fames in a systematic manner but also categorize them under the sections like 'today's most talkative' and 'most @replies now', these sections make checking the daily updates more easily accessible. "You can check the Tweets of your favorite fames also under the heading of 'today's most talkative', where you come to know who tweeted the most for a particular day and also under the heading of 'most @replies now', which gives you an account of the replies sent by them for that particular day. Tweet Idols' charge of keeping you updated with the fames doesn't stop here as there is the auto updating task is done every minute", suggests Mr. Arora.
Why wasting time over searching the Tweets of each and every Indian glitterati from a cluster of Tweets that holds the posts by all Indian and international renowned people and others? Check http://www.tweetidol.in/ today.
# # #