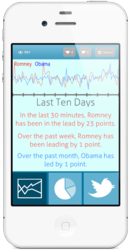 "Twelect has been within 4% of national polls... and provides continuous feedback."
Greenwich, CT (PRWEB) May 22, 2012
National political polling firms go to great lengths in a never-perfect attempt to predict the outcomes of elections. A young software developer from Connecticut is single-handedly matching their collective output by leveraging the hive mind of US-based Twitter users.
This morning, Twelect (http://www.twelect.com/), Peter Kazazes' new iPhone/iPad app, will hit the iTunes App Store and give users a real-time look into the ups and downs of the 2012 presidential election.
By collecting, processing and scoring the 140-character tweets about presidential candidates Barack Obama and Mitt Romney, Kazazes is confident his sentiment-analysis algorithm will prove to be just as, if not more, precise than major polling firms with their phone surveys and data crunchers. Throughout the Republican primaries, Kazazes beta tested the algorithm behind Twelect and found that the app's results were consistently within the margin of error of major national polls.
"Quite frankly I was stunned by the results," Kazazes says of his new app. "Twelect has been, and continues to be, within 4% of the most well-regarded national polls. Twelect has an edge on these polls, however, as the program can be run at any hour of the day, as often as one could desire and at virtually no cost. Honestly, I've been amazed with what I have seen thus far."
On top of the accuracy, Twelect results are up to the minute. Kazazes notes that many national polls are run on a monthly or weekly basis, even in the height of election season. Twelect is essentially running all the time, providing continuous feedback.
The app, and the Tweet-analysing engine that comprises the "secret sauce" behind it, is a lot more complicated than the more-well-known "Trending Topics" that hit Twitter's front page.
Kazazes explains, "Extracting human emotion from text is not an easy process. Through literally thousands of rounds of testing, we fine-tuned an algorithm that gives a tweet as short as four words a numeric 'emotion factor' ranging from -1 to 1. The algorithm is able to pick up on language and linguistic nuances within text with astounding accuracy. From there, we are able to extract negative and positive sentiment. Although it's still in beta, the algorithm is currently matching our human-rated scores within 0.15 (out of 1) over 92% of the time."
Zogby, Rasmussen et al. might want to take note.
---------------------------
About Peter Kazazes: Kazazes, 16, is a mostly self-taught software developer from Connecticut. After creating several mobile apps, Peter began a series a long term contract-based programming assignments for major corporations.
About Twelect: Twelect uses a revolutionary algorithm to analyze current Twitter activity surrounding Barrack Obama and Mitt Romney to discern sentiment from the discussion. Twelect includes a live feed of every tweet being analyzed by the Twelect engine. The iPhone/iPad app allows users to watch, in real time, as people around the world discuss their opinions on the candidates.
For more information about Twelect, contact Peter at (203) 940-1857 or peter(at)pkazz(dot)com.