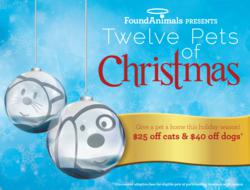 Every pet deserves a home for the holidays.
Los Angeles, CA (PRWEB) November 30, 2012
Found Animals Foundation, the Los Angeles-based animal welfare organization, today announces the launch of its region-wide discount pet adoption program, 'Twelve Pets of Christmas.' Beginning December 1st, and running through December 23rd, 2012, the 'Twelve Pets of Christmas' highlights 12 categories of pets that are often overlooked in shelters.
The 'Twelve Pets of Christmas' promotion include animals in the following categories: adult cats (over nine months), big dogs (over 40 lbs.), black pets, Pit Bull type breeds, medical needs, senior pets, overweight pets, bonded pairs, shy pets, adult Chihuahua / Chihuahua mixes (excluding puppies), only pets and exotics (birds, reptiles, etc.).
Discounts on the already low pet adoption fees during the promotion are $30 off for cats, $40 off for dogs and 50% off exotics (up to $40). Discounts are available by printing a coupon from FoundAnimals.org/12Pets and bringing it into a participating shelter.
"Every pet deserves a home for the holidays. While these 12 categories of pets may not be as flashy as puppies or purebreds they are wonderful family companions with lots of love to give," said Found Animals Executive Director Aimee Gilbreath.
In addition to the Found Animals sponsored Adopt & Shop location in Lakewood, the 19 shelter locations offering the discount include: Agoura, Baldwin Park, Carson, Castaic, Downey, Lancaster, North Central, South Los Angeles, West Los Angeles, Best Friends Animal Society Los Angeles, East Valley, West Valley, Harbor, Long Beach Animal Care Services, AV Pet Stop, spcaLA, spcaLA South Bay Pet Adoption Center, SEAACA and the Cat Adoption Center.
For more information, or to print a coupon, please visit FoundAnimals.org/12Pets.
Interview and broadcast opportunities are available.
For more info please contact Teresa Buyikian at (213) 925-8188.
###
About Found Animals
Found Animals Foundation is a privately funded nonprofit organization dedicated to animal welfare issues. Led by business and medical professionals, the Foundation works directly within the animal welfare community to reduce the use of euthanasia in shelters by supporting programs including: pet adoption, spay/neuter services, pet identification, and sterilization research. For more information, please see http://www.FoundAnimals.org.