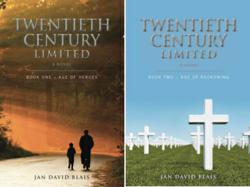 More than a good read, its portrayal of America's decades of stalemate and folly reminds us of the importance of not forgetting. 'Those who don't know history are doomed to repeat it.'
Watertown, MA (PRWEB) January 17, 2013
A Vietnam Vet overcomes disabling injuries to become an award-winning reporter and TV newsman. Known for holding a mirror to American society, long critical the radical right, Paul Bernard attacks the Bush Administration for Osama bin Laden's escape and for leading the nation into a disastrous war. On assignment in Iraq he is killed under suspicious circumstances. His old professor and mentor then joins with a writer profiling Bernard to seek the truth about the killing.
Asked why he wrote 'Twentieth Century Limited', Blais commented, "More than a good read, its portrayal of America's decades of stalemate and folly reminds us of the importance of not forgetting. 'Those who don't know history are doomed to repeat it.'"
'Twentieth Century Limited Book One ~ Age of Heroes' tells of Paul Bernard's coming of age, his Canadian immigrant roots, the patriotism and religious intensity of his early years. Then comes the devastation of Vietnam, recovery, return, and immersion in the New York newspaper scene. In 'Book Two ~ Age of Reckoning', Bernard is a prominent critic of America's Middle East oil dependency. As a foreign correspondent in Paris and Moscow, he covers the great year 1989 in Europe and the Gulf War. Bernard's move to TV news is marked by clashes with the radical right over the Clinton impeachment, the 2000 election and the government's response to 9/11, culminating in his controversial stance against the Iraq War and the dramatic final events of the book.
'Twentieth Century Limited' is at bookstores in person and via IndieBound.com, also online retailers including Amazon.com, Barnesandnoble.com, Apple's iBookstore, and jandavidblais.com. Book One $21.95 ISBN 978-1477598375, eBook $9.95 ISBN 978-1623463557. Book Two $21.95 ISBN 978-1478104070, eBook $9.95 ISBN 978-1623463564. Flight Path hardcover $26.95 ISBN 978-0965460705, paperback $16.95 ISBN 978-1477532751, eBook $9.95 ISBN 978-1623458805.
About the Author
Jan David Blais is an American author and a lawyer. FLIGHT PATH, his novel of the airlines in the early days of deregulation has just been re-issued in paperback and as an eBook.
About eBookIt.com
'Twentieth Century Limited' was converted to eBook format by eBookIt.com. Since 2010, eBookIt.com (based in Sudbury, Massachusetts) has helped thousands of authors and publishers get their books converted to ebook format, and distributed to all the major ebook retailers, including Amazon.com, Barnesandnoble.com, Apple iBookstore, Kobo, Sony Readerstore, Ingram Digital, and Google eBookstore.