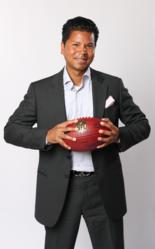 Having the correct mouth piece helps you breathe, helps you play faster, and helps you have more balance and I think that's the WrightGUARD.
--Vincent Fuller
Bethesda, MD (PRWEB) August 29, 2012
Dr. Michael Wright, a local dentist in the Washington DC area who specializes in Prosthodontics, has recently come out with a line of innovative protective mouthguards known The WrightGUARD. The WrightGUARD is designed to help better protect athletes from oral/facial injury and provide better concussion safety. Dr. Wright has spent this summer going to numerous football camps and speaking with past and current NFL players about TWG's Concussion and Safety Awareness Campaign. The list includes:

Josh Morgan (Redskins) Football Camp
Keion Carpenter (Former Falcon)/Shutdown Academy Youth All-Star Bowl
Commitment for Change (C4C) Youth Football Camp
LaQuan Williams (Ravens) Celebrity Basketball Game
Mike Tomlin's (Steeler's Head Coach) Hampton Road Youth Foundation
Brandon Banks (Redskins) Football Camp
Deion Sanders/The Truth Academy Youth Championship, ATLANTA, GA
During his time at these camps, Dr. Wright was very interactive with the kids that participated in the camps by fitting them for their correct size mouth guard. He also lectured the parents and athletes about the dangers of inadequate protection.
The WrightGUARD was created by Dr. Wright to be the last line of defense in reducing the occurrence of severe concussion and devastating mouth injuries in contact sports. It combines facets of cosmetic and reconstructive dentistry. Dr. Wright has designed the TWG X and TWG E mouthguards.
As part of the campaign, TWG is educating parents, athletes, and coaches at these events about concussion safety and oral protection in sports. TWG has identified and improved the most over looked piece of protective sporting equipment- the mouthguard. Dr. Wright has identified a deficit in what is currently on the affordable mouthguard market and has researched, designed, and applied dental principals to develop a patent pending mouthguard that is of custom quality. Dr. Wright has a fledgling desire to properly protect our athletes - a goal which most sports companies fail to achieve adequately in designing their products. TWG's goal is to reach a national platform in order to educate as many parents, kids, and athletes as possible to protect against oral/facial injuries. Subsequently, we have formed relationships with many Pro athletes, retired athletes, athletic directors, coaches, colleges and university athletic programs. Please review our information and contact any of the WrightGuard team members with any questions about our company, product or campaign.