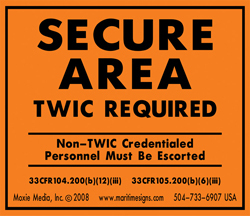 We have set up a one-stop shop to meet TWIC compliance needs and business has been strong
New Orleans, LA (PRWEB) July 7, 2009
A new rule makes TWIC training essential for all personnel working at maritime facilities in the United States.
U.S. Coast Guard and Department of Homeland Security Navigation and Vessel Inspection Circular 03-03, Change 2 outlines the new regulations requiring knowledge of the TWIC credential and how to carry out its provisions, for Facility Security Officers, facility personnel with security duties, and all other facility personnel. This update includes changes in training that will be audited and evaluated by USCG Inspectors during the annual MTSA compliance inspection of facilities regulated by 33 CFR.
As facilities rush to meet this requirement, a pre-made training program may the best option. The leading program in the field comes from Moxie Media, Inc., a longtime leader in video-based and online training for the maritime industry. The program, TWIC MTSA Training, provides facility owners, security officers and all employees with all they need to know about TWIC implementation, from obtaining the credential to establishing and maintaining secure and restricted areas on site. The program is available in video/DVD and web/computer-based versions.
Moxie also provides another key element of TWIC implementation: Secure Area signs and stickers. TWIC regulations require that secure areas be clearly marked: highly visible signs or stickers are the surest way to meet this requirement. For more information about Secure Area signs, see http://www.maritimesigns.com.
"We have set up a one-stop shop to meet TWIC compliance needs and business has been strong," said Martin Glenday, President of Moxie Media. "We're doing all we can to make full compliance as easy as possible on everyone in the industry."
So, check the site, train your personnel, and don't let Coast Guard inspectors surprise you with this new requirement.
For additional maritime sign needs:
http://www.maritimesigns.com
For maritime, industrial safety & environmental training programs:
http://www.moxietraining.com
Or call: 800.346.6943 or 504.733.9493
About Moxie Media:
For over two decades, Moxie Media, Inc. has produced and distributed training and safety programs custom designed for the demanding needs of today's sophisticated work force. With hundreds of video/DVD and interactive computer and web-based media titles in stock and under production, Moxie Media provides cost effective solutions to safeguarding the health and productivity of company employees.
###