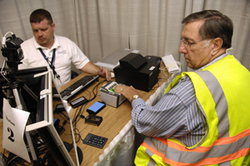 We had port and vessel operators calling us up and begging for some type of training tool for TWIC
New Orleans, Louisiana (PRWEB) January 18, 2008
More than seven years after 9/11, a new measure designed to protect the nation's shipping industry has arrived. The Transportation Worker Identity Credential, knows as TWIC, is up and running with more than 50 enrollment centers open around the country and another 100 to follow. While Congress has complained about the slow rate of implementation, employers are concerned about the complexity of the approval process - and its cost, especially when employees are initially rejected and must appeal.
While the Transportation Safety Administration and staff at the TWIC enrollment centers are charged with guiding workers through the application process, employers are relying on additional sources of information: training programs provided by third party vendors. "Everything You Need to Know about TWIC," from New Orleans-based Moxie Media, Inc., provides detailed instruction on the TWIC approval process for employers and employees in the maritime industries. "We had port and vessel operators calling us up and begging for some type of training tool for TWIC," said Martin Glenday, President of Moxie Media.
Glenday believes that TWIC is warranted. "We have to do everything we can to keep someone from smuggling a bomb into a port, or onto a vessel, or onto an oil rig in the Gulf. If that means scrutinizing employees closely, using a variety of means, so be it." He added that the process is made more complex due to the sheer numbers of workers who need the credential--more than 1 million in the maritime industry alone--and logistics. "In the maritime industry, workers can be on boats all over the world. Getting them to an enrollment center requires a lot of pre-planning." And TWIC approval, even if done as efficiently as possible, requires two trips by each worker to a center.
"Everything You Need to Know about TWIC" is a video-based DVD or web based program that can be shown on vessels or at maritime facilities to prepare workers for the approval process. "We want people to go to the enrollment center with all the documentation they need and be prepared to complete the paperwork correctly the first time," Glenday said. "Every error along the way simply compounds the costs, for the employer, the worker, and for the federal government."
"Not only is the TWIC application incredibly complex mandating numerous government identity documents and navigation through often confusing forms, it also requires employers to train their employees on new US Coast Guard security procedures," said Glenday. The Coast Guard through additions to 33 CFR is requiring employers to instruct their employees on new "secure" access area designations, how to recognize fraudulent IDs, how to report violations, as well as be able to inform TSA of any event that would render them ineligible or invalidate their existing TWIC.
Companies who are impacted by the TWIC enrollment process and are in need of training for their employees can visit the TWIC internet resource sites - TwicTraining.org - as well as TSA.
About Moxie Media
For 22 years Moxie Media, Inc. has produced and distributed training and safety programs custom designed for the demanding needs of today's sophisticated work force. With hundreds of video/DVD and interactive computer and web-based media titles in stock and under production Moxie provides cost effective solutions to safeguarding the health and productivity of company's employees. Moxie's approach to programming is to customize training to specific industries. Workers want to hear the terminology and see the locations that they are used to, not some factory worker in an unspecified location.
Contact:
Kim Gallup, Product Manager
Moxie Media, Inc.
504-733-6907
http://www.moxietraining.com
# # #