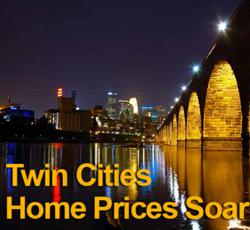 "The last time the median home price for the Twin Cities 13-county metropolitan area was higher than it was in April 2013 was September 2008, marking the 14th consecutive month of year-over-year price gains." ~ MAAR
Minneapolis, MN (PRWEB) May 13, 2013
Minneapolis real estate is progressing fabulously, seeing the highest pending home sales count since May 2006, setting a Twin Cities home prices 7 year high benchmark. For the same time period, there were 4,138 closed sales, and inventory levels declined 29.3 percent to 13,113 active listings. Driven by the changing mix of sales, solid demand for new Twin Cities real estate listings and falling Twin Cities low housing inventory, the median home price for the Twin Cities metro rose 12.2 percent to $182,312.
"Our Twin Cities sellers market is gaining new home prices records unseen since 2006. With a low 3.1 months supply of housing inventory, more Twin Cities real estate seller participation is in high demand. It is an exceptional and positive market welcoming home sellers to help continue our housing recovery," says Jenna Thuening, owner of Home Destination.
One very positive sign is the percentage of all new listings that were traditional, non-distressed homes increased to 77.9 percent, a new high unachieved since October 2007, as confirmed on May 10th by HousingWire in an article titled "Twin Cities Home Prices Soar". For closed sales, that numbers rose to 68.4 percent, a record level not seen since July 2008.
Seller activity was up 7.7 percent overall, while traditional new listings were up 28.0 percent, foreclosure new listings were down 25.6 percent and short sale new listings were down 39.5 percent. The 10K Housing Value Index – which controls for data variability – showed an 8.5 percent increase to $181,381.
Additional Twin Cities home prices and housing stats in the MAAR report include:

Traditional median home sales price was up 8.5 percent to $216,000
Foreclosed homes median sales price was up 11.7 percent to $134,000
Homes sold in short sale median sales price was up 5.1 percent to $135,000.
Traditional home sales sold in 90 days
Foreclosures sold in 94 days
Short sales sold in 178 days on average.
Home Destination Offers Tips On How to Price Your Home in a Home Seller's Market:
1. A good way to determine the best dollar figure is to study recent sale prices of comparable homes in your neighborhood. Local Realtors can access Minneapolis "comps" for you and suggest a fair value. Web sites such as Zillow.com and Trulia.com also provide data on recent sales. Resist the urge to ask for more than what your home is worth. When a real estate buyer feels like you are being fair, they may be more inclined to work with you.
2. Urgency To Sell May Impact Home's Selling Price - If the home seller must relocate immediately due to a job transfer, death in the family, or some other reason, the sense of urgency to sell quickly may determine a lower asking price. When a home's price point is higher than it should be, it may do more to help everybody else in the neighborhood first.
3. Price Should Reflect A Home's Value - Prove the value of your home. Recent home renovations and upgrades should be highlighted. For example most buyers won't know that cost of granite countertops improvements unless told.
4. Understand List Price and Home Sales Price - Know the a meaningful relationship between a home's list price and sales price. Perhaps most homes are selling for 5% less than the list price, or above the list price due to multiple offers. A local agent who has deep inside experience will be in the best position to find the tipping point between a list price and what a seller is willing to take in an offer.
5. Compare Sales Price of Foreclosed Homes - A foreclosure usually has a different feel from a move-in ready home, so it will probably be priced a little lower.
6.Use Current Comparable Home Sales - Finding sale prices on comparable homes, and recent property sales in the same neighborhood will ensure a home's asking price will be a close match to a home appraisers price.
"Since home values have risen and Twin Cities home sellers are gaining multiple offers in many markets, it is understandable that sellers find it hard to know what their asking price should be," comments Thuening. "Current Twin Cities bidding wars are pushing home prices upwards, too."
Home Destination helps home sellers know what additional things to do before selling and markets a home to attract potential home buyers. To engage a professional residential Twin Cities Realtor and take advantage of the strong Twin Cities home sellers market, call 612-396-7832.