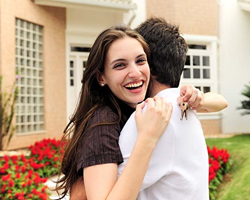 "Overall, the median sale price for all homes sold in the Twin Cities has been recording double digit year over year gains for the past 13 months. Many of the other market indicators are positive as well." ~ University of St. Thomas
Twin Cities Minnesota (PRWEB) June 27, 2013
Twin Cities pending home sales reached their highest benchmark since June 2005. Happy home sellers with signed purchase agreements rose 18.5 percent in May to 5,872, reports the Minneapolis Area Association of Realtors (MAAR). Rising home prices help Twin Cities sellers take advantage of the positive housing momentum by gaining a good price and successfully turning house keys over to a new owner.
"The climb in home prices to a 7 year high is bringing more homes for sale into the market. This creates a better balance between supply and demand, says Jenna Thuening, owner of Home Destination. "Twin Cities real estate sellers can hardly catch their breath to keep up with our strong buyer demand. At this rate, homes are snatched up and off the market for further bids, leaving a clear call for new listings."
Rising home prices, fewer days on market and higher numbers in traditional home sales are creating a positive outlook about real estate, according to MAAR, putting home sellers in the driver's seat. The following Twin Cities housing stats shed light on its current state of residential real estate:
Twin Cities metro area tally for the week ending June 8:

New listings increased 23.2% to 1,951
Pending sales increased 12.0% to 1,329
Median home sales price up 14.9 % to $194.200
Percent of original list price received is up 2.5 %
The Shenehon Center for Real Estate at the University of St. Thomas says there is no reason to fear another housing bubble coming out of our recent climb in home prices. The Twin Cities housing market has plenty of room for improvement in the bigger picture. The median traditional housing price of $220,000 has dropped only 8.3% from the peak level of $239,900 in July 2006; it is up 22.2% from the bottom of the market recording of $180,000 from February 2012. Recent increases in price still find that the median sale price of homes has remained reasonably balanced when compared to median household income since the end of 2008.
"Our 22% upward swing in the median home price gained in the last 15 months results in offering Twin Cities sellers sufficient equity necessary to list their properties for sale in the marketplace," comments Thuening.
"It's a seller's market now, and part of that is driven by historically low supply," said Herb Tousley of the Shenehon Center. With skimpy housing inventory, bidding wars erupting among Twin City buyers sometimes result in sales that actually exceed the home seller's asking price. The St. Thomas Residential Real Estate Price Report shows the median sale price of a traditional home in May was $220,000, a 7.3 percent increase over 2012.
Seeking to temper the excitement of home price gains with caution that home prices could be rising too quickly, those wary of another housing bubble are mitigated by recent increases in mortgage rates. Housing giant Zillow pointed out earlier this week that average 30-year fixed mortgage rates sprang upward 50 basis points to 4.38 percent. Last week the rate averaged 3.88 percent, making for the highest rate since July 2011, but still comfortably below historic averages. Rising home prices seem to be holding their own inspite of rate increases.
Director Erin Lantz at Zillow Mortgage Marketplace believes that mortgage rates and spiked as a result of Federal Reserve Chairman Ben Bernanke's comments about the Fed's commitment to scale back its stimulus program later by the end of 2013. As housing analysts predicted, rates have shown moderate volatility as housing recalibrates and fresh numbers dictate whether home sellers can expect we have plateaued near 4.5 percent interest rates or whether we have seen an impulse reaction that we will see even out.
"Home sellers have survived years of wandering home values. Twin Cities home prices are clipping above the national average and make for a great time to sell," Jenna says."Today those who win over the tough issue of banks' willingness to lend, are finding it is truly a seller's market, empowering move-up buyers."
Home Destination helps homeowners view their options and determine if it is better to sell their home and move-up or to build that dream house. Rising To pose questions and gain answers from a skilled Twin Cities residential Realtor, call and ask for Jenna Thuening at 612-396-7832.