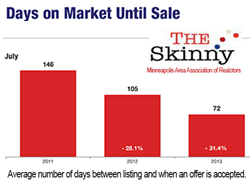 "Better-than-expected data on jobs and housing brought the bears back in action after almost a two month-long snooze." ~ Nasdaq Weekly Economic Overview for August 19 - 23, 2013
Twin Cities, Minnesota (PRWEB) August 20, 2013
Twin Cities home sales are snapped up faster year over year, taking - 27.3 percent fewer days to sell a home, according to the Minneapolis Area Association of Realtors. For the 12-month period spanning August 2012 through July 2013, Twin Cities Pending Home Sales were up 11.8 percent overall, with home sellers pleased to be selling their homes faster than anticipated.
"Knowing what to expect when you list your home for sale has changed in recent months. Most homeowners are excited when they put their house on the market with visions of moving up to a better home or off to preferred job in another city. However, today, home sellers find they need to be prepared to move fast. Twin Cities homes as selling almost as if being snatched as quickly as a falcon dives for prey. Home building permanents, builder optimism and existing Twin Cities homes sales are all up," says Jenna Thuening, owner of Home Destination.
Details in the Twin Cities housing report include:

In July of 2013, it took an average of 72 days to sell a home; whereas the average was 105 days in July of 2012.
July saw a decease of 31.4% in length of days to sell a home.
In June of 2013, it took 74 days to sell a home; in June 2012 it took an average of 113 days.
June saw an even more significant decrease of 34.5%.
"Whether that's the case across the Twin Cities is difficult to determine. Reliable data aren't available for the Twin Cities, but agents say multiple offers are occurring on 30 to 50 percent of housing deals, depending on the listing and location," according to the Tribune August 16th article "Home Buyers Battle Bidding Wars".
Redfin Housing Study says Twin Cities bidding wars have reflected just how fierce the bidding competition has been amongst Minneapolis / St Paul real estate buyers, stimulating better than asking prices for Twin Cities home sellers:
Home buyer fatigue may be settling in and reduce future home sales. Redfin says that "Buyers in LA are worn out from losing bidding wars and are pulling back for now, hoping that competition will ease later this year."
The US residential real estate market saw a competitive decline for the fourth consecutive month in July in home sales that completed with a bidding war. The positive side of that may be an overall trend towards a more balanced housing market.
Nationally, the average difference between winning offers and a home's listing prices fell to 0.6 percent in July from 0.9 percent in June and 1.4 percent in the previous month.
Another hot spot nationally, Baltimore, Maryland saw competition ramp up in July; bidding wars jumped 8.8 percentage points from 41.2 percent in June to 50 percent.
The combined impact of rising home prices and mortgage rates is squeezing some prospective real estate buyers out of the ability to afford a home, reducing competition for available inventory.
"We are seeing multiple buyer offers on 30 to 40 percent of all home purchases in the Twin Cities. They seem to show up in all price ranges and even on real estate listing that have been on the market longer than others. Pristine homes in prime locations often have multiple bids on them within the fist few hours." adds Thuening. San Francisco, Los Angeles and Orange County homebuyers face bidding competition on more than eight out of every 10 offers in May, stated the Redfin report.
Home sellers looking to list their Twin Cities homes and gain the guidance of a seasoned Minneapolis / St Paul Realtor for best positioning to gain multiple bid offers, may call Home Destination at 612-396-7832.