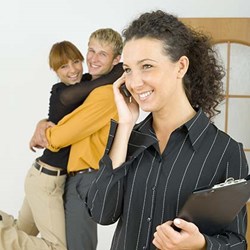 "At the same time homeowners' newfound equity opens market opportunity, a second key market constituent, the investor, is expected to continue driving demand in 2013." ~ CoreLogic Spring Market Pulse Report
Minneapolis, Minnesota (PRWEB) April 25, 2013
Many potential home sellers are thrilled to find that they have sufficient home equity to sell. In yet another positive sign for national home values, CoreLogic's Spring MarketPulse Report says that potential sellers increasing home equity levels are reviving trade-up home buyer demand.
CoreLogic says that new construction starts are up an annualized rate of 1 million, a strong 47 percent over the same month in 2012, which is the best improvement in new home starts in over 20 years. As Spring arrives, real estate sellers are reeving up to meet buyer demand and their new found equity is putting them in a stronger position when selling. The report notes that "the seller-turned-buyer must still clear the credit qualification hurdle in order to purchase another home".
Home Destination's owner Jenna Thuening says, "When a move-up buyer can meet today's higher credit scores needed for home loan originations, they can take advantage of moving their home equity to a home that better meets their current family needs".
Minnesota Stats in CoreLogic's MarketPlus Report:

Total Home Sales 12 Month Sum: $65, 406
Total Sales Year Over Year 12 Month Sum: -2.1%
Distressed Home Sales Share: 17.5% down from 22.2 a year ago
Home Price Index Percent Change From Peak: -23.2%
Negative Home Equity Share: 16.4%
Months Supply Of Distressed Homes: 5.5
Home Destination Offers Home Sellers With Sufficient Equity The Following Strategies:
1) Keep A Balanced Approach When Budgeting For A Home - Use Home Destination's mortgage worksheet to help determine a realistic budget for owning a home and how they can afford. Homeowners seeking to determining how much home to buy should avoid putting the monthly home payment first in the budget plan. Try setting aside 10% of all earnings for retirement, emergency funds, or college savings. After these essentials are met, such as food, car and medical insurance, homeowners will find it easier to determine what they can spend on their home mortgage. Avoiding budgeting for a more expensive home than one can afford may lead to later regrets.
2) Move-Up Buyers Home Loan Options - Move-up buyers seeking to buy a home with a quality home loan may be attracted to paying off a home in 15 years. However, it is important to take into account the extra money it will take to pay it off in 15 years versus 20 or 30. It is a great decision - if the money needed for other goals, such as retirement, are also met. Waiting to save toward retirement until after the mortgage is paid off, means loosing 15 to 20 years in the process and any interest income. Time is key for retirement planning. Talk to a financial expert about debt and what smart strategies can use for a long-tern advantage.
3) Have A Long-Term Exit Plan - Whether purchasing a new home with plans to live in it for your or with the intent to rent it or invest and flip it, taking a view of eventually selling it will safeguard the homeowner, eliminating potential hang-ups that may inhibit the ability to resell the home later on. Be watchful if the neighborhood is changing in a negative way. Is a new highway project proposed nearby in the foreseeable future? A rezoning for low-income rental units nearby? No one wants to loose their home's resale value, so enter a home purchase agreement with an exit strategy in mind.
4) Gain A Sellers Advantage With A Professional Team - Having a team of professionals such as a mortgage broker, real estate agent, and financial planner working together adds up to making better informed home buying decisions.
Additional Finding About Home Sellers In CoreLogics Housing MarketPlus Report:
Real estate investors will continue to drive up demand for new home listings in 2013.
Sellers gaining higher home prices in the purchase market have led to increased rental home prices.
Tight housing inventory in the single-family rental market is causing rental prices to rise.
New household formation and homeowners who experienced foreclosure in 2012 will ensure strong rental demand in 2013.
The Minneapolis Skinny says Twin Cities new home listings decreased 2.0% to 1,605, pending sales increased 6.1% to 1,186, and housing inventory decreased 28.7% to 13,145. "We need home sellers to helps us meet metro buyer demand", states Jenna.
One way Home Destination helps Minneapolis homeowners decide if it makes sense to sell their home now, is by determining if they have sufficient home equity. Call 612-396-7832 for a Twin Cities residential Realtor who guides homeowners through the process of selling their home.