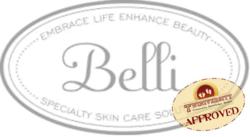 "I am a big fan of the elegance and simplicity Belli has put into their packaging-it really makes the consumer feel like they are using a high-end spa product in the comfort of their own home."
New York, New York (PRWEB) October 12, 2011
Parents of twins, and higher order multiple birth children, from around the globe have united within Twiniversity; the world's fastest growing online network exclusively for their community. Twiniversity was formed to help families connect so that experiences can be shared, support can be given, and all multiple birth families have a place to call their online home.
One of the numerous topics discussed within Twiniversity is personal care during pregnancy. Moms to be and new moms are always looking for something to help with stretch marks and the itching that is associated with a growing belly. Considering how much a mother of multiples grows during her pregnancy, which is expectedly larger than that of a singleton expectant mother, this growth may be irritating, or even downright painful. Within their group moms also discuss pregnancy skin issues, including the all too common including Chloasma, a hormone related acne issue.
With these topics being so prevalent in the Twiniversity Forums, the founder Natalie Diaz was thrilled when Belli, a skincare line developed especially with moms in mind, reached out seeking an official "Twiniversity Approval".
Moms from around the United States were chosen to take part in the Twiniversity Approval process for Belli Elasticity Belly Oil and Belli Acne Cleansing Facial Wash. Twiniversity Testers were required to record their thoughts on the product packaging, usability, etc. The independent testers were given Belli Elasticity Belly Oil and Belli Acne Cleansing Facial Wash to be used for a series of months during different stages of their pregnancy. The reviewers were also asked to take photos and record videos to help illustrate why they liked or disliked certain features. Since 100% of the Twiniversity Testers would "highly recommend Belli Elasticity Belly Oil to another mother of multiples," and the majority of the reviewers would "highly recommend Belli Acne Cleansing Facial Wash", Twiniversity proudly announces that both products have officially been awarded the "Twiniversity Approved" stamp.
Some of the features the approval team liked best about Belli Elasticity Belly Oil include: the scent, the beautiful packaging and the way it made them feel. "I put it on at night after the shower and the scent and texture is very pampering." Becky Wolfe, a Twiniversity Tester noted "I am a big fan of the elegance and simplicity Belli has put into their packaging-it really makes the consumer feel like they are using a high-end spa product in the comfort of their own home."
The Belli Acne Cleansing Facial Wash was praised by reviewers for its nice scent, cleaning ability and ease of use. "It felt like it tightened my skin and felt refreshing" another Twiniversity Tester commented.
Natalie Diaz, founder of Twiniversity, explained why Twiniversity started its own approval process by saying, "Parents of multiples trust other parents of multiples more so than anyone else. Since our community is such a tightly knit one, we depend on each other for support and guidance. Even though twins occur one in every 30 deliveries, it's still rare, and the fact that our group shares this common bond makes us a real close community." She goes on to say, "This trust is not taken lightly, so when we decided to start our own review process we took several factors into consideration, most being specific to parents of multiples and unique to our community. We want to make sure that time, safety and finances are considered since they are what Twiniversity families are most concerned with."
"Twiniversity Approved" recipients are recognized on the specific standards set forth by the Twiniversity team, and tested by independent families of multiples who are not paid for conducting reviews.
About Twiniversity.
Twiniversity is the fastest growing online community for parents of multiples since its founding in February 2010. Lead by Natalie Diaz, mom of six-year-old twins, writer for New York Family Magazine, teacher of the Twins 101 series, multiple parent advocate and Director of The Manhattan Twins Club.
Twiniversity headquarters is located in New York, N.Y. and has reach to more than 10,000 families of multiples in over 19 countries. For more information, visit http://www.Twiniversity.com.
About Belli
Founded on a clinical understanding of ingredient safety in 2002 by Jason Rubin MD and Annette Rubin, Belli offers luxurious and effective skin care solutions to safely address the specific skin care issues of pregnant women, new moms and babies. Belli incorporates the best ingredients from science and nature with the benefits of aromatherapy and massage therapy for holistic mother care. The Belli brand has earned the respect of OB/GYNs and pediatricians and the trust of discerning moms. Belli alone provides the treatments that make women feel beautiful, empowered and pampered during a magical yet uncertain time of body changes and heightened safety concerns.
http://www.belliskincare.com
###