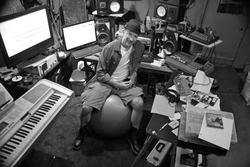 There are great dynasties of pop music based on soaring high male vocalists, but you don't hear counter tenor male singers much in pop music today
Anaheim, CA (PRWEB) October 5, 2010
TwinkleU is the debut pop album by counter tenor opera vocalist Cris Law. Law normally specializes in the Baroque, Renaissance and Medieval periods. OC rock singer, producer and filmmaker Frank Rogala (lead vocalist and producer for EXUDE and NC-17) toiled for 7 years producing and co-writing the surprisingly glossy confection of an album.
The album was recorded and mixed in the same Anaheim garage studio where NC-17 recorded and filmed much of their 2001 film, Won't Anybody Listen. This full length motion picture garnered rave reviews in the Hollywood Reporter, Variety and The New York Times, and was picked up for theatrical distribution by Seventh Art Releasing for TV broadcast rights were acquired by the Sundance Channel.
"There are great dynasties of pop music based on soaring high male vocalists, but you don't hear counter tenor male singers much in pop music today," explained producer and co-writer Rogala. "When I heard Cris's voice, it was so unfamiliar sounding, so ethereal and at the same time, strong and vulnerable. The tone floats somewhere between genders. I was hooked," explained Rogala.
"I looked to huge pop records with similar upper register male vocals like the Bee Gees, Michael Jackson, The Bronski Beat and used those references as a launching pad," explained Rogala. TwinkleU covers The Bee Gees You Should Be Dancing and makes a medley of the Bronski Beat's Why/Small Town Boy.
The rub came when the duo tried to take that operatic voice (trained to project and fill a room with amplification) and make it fit its sturdy tone into a pop record. "The joke is that I ruined his training," said Rogala. "I had to work with Cris to help him find a voice that let him sing and emote in an entirely unfamiliar way than what been instilled into his being. When I checked out pop albums by other opera singers, I didn't find even one that didn't seem like a missed opportunity; if not a failure or worse – a cop out. Either the singer was imposing an operatic voice over a pop track or in a recent case, a female opera singer performed her entire album in an entirely different vocal range than the one that had made her famous (this allowed her to sing pop in a conventional way by avoiding her trained operatic register, but resulted in a so-so vocal performance). I just haven't heard it done in a way that 'worked.'
I wasn't about to create an entire album of cover songs (another opera singer pitfall). Between the two of us, I felt we could create an original sound and 'voice' for Cris. I was looking for something that felt like a step forward," explained Rogala, who wrote many of the lyrics on TwinkleU.
"I know that 7 years to produce an album seems ridiculous, but we were working on it constantly. I was determined that the album would not be finished until it was right," explained Rogala, "I am so weary of mediocre music - there is enough crap in the world already, I didn't need to contribute more. It was a difficult process, and for better or worse, Cris got to know me very well. In the last 7 years he saw me go through the symptom and the diagnoses of four incredibly debilitating illnesses, followed by difficult experimental treatments, a marital separation, as well as the deaths of both parents.
Many of Law's live vocal performances occur in LA/OC houses of worship. Rogala credits witnessing Law's church performances, along with the experience of losing his parents, with the creation of two songs on TwinkleU that lean toward the spiritual. Rogala explains, "Listening to Cris I was exposed to music that was fresh to my ears, but in reality is hundreds of years old. There is a use of language in old hymns that is very personal, symbolic and powerful." The duo intends Rise Up, the final song on the album, to become a "new" hymn for the modern age.
Twinkle Twinkle Little Star is also given a fresh melody and a shiny pop vehicle by Rogala and Law. A video for the song will be the album's first and was created from footage shot at the Rogala Family Reunion at the campground Rogala operates with his three brothers in Northern Michigan (Mackinaw Mill Creek Camping). "The reunion has a talent show every year," said Rogala. "The kids get onstage and are fearless – it's inspiring, I hope that the video can get that across."
Rogala is working on a detailed account of the personal struggles he experienced during the 7 years it took to finish the album. He plans to upload the saga in stages at the TwinkleU web site TwinkleUmusic.com
"I'm confident that this album has turned out to be something special," Rogala explains, "My brother, Vince (sax player for EXUDE and NC-17) has never been one to give compliments. After he heard Twinkle, Twinkle Little Star, he said, "Well Frank, you just might be able to afford to retire after all."
Law and Rogala will celebrate the release of TwinkleU on Friday, October 29, 2010, 7:30 p.m., at UUCLB, 5450 E Atherton St, Long Beach, CA 90815. Planned events include a live vocal performance and the World Premiere of a new music video for the song Twinkle Twinkle Little Star. The general public is welcome (please RSVP via TwinkleUmusic.com. Hors d'oeuvres will be served by HouseCallChef.com.
###