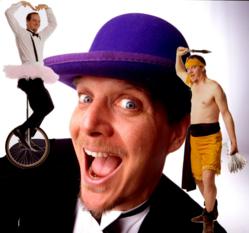 Laughing beer out your nose is a great way to to start any date.
Seattle, Washington (PRWEB) May 23, 2013
Twisted Cabaret recently introduced a new Date Night ticket package to promote romance and hanky panky. "We looked out into the audience and realized that most of our guests were on dates and thought we could help get a few folks to second base if we offered them a VIP package at a discount," said Twisted Cabaret star, Frank Olivier. According to the show's website, the new Date Night Seattle package gives couples a thirty percent discount off of VIP seats so they have more money to spend on cute clothes and beer. "Beer and cure lingerie are key to improving the overall hotness factor of any room."
The show is not particularly romantic; it's more of a comedy train wreck with sixteen hilarious variety acts like juggling, magic, knife throwing, and more. But the producers of the show claim to offer a guarantee saying, "If you don't score after the show, come see us." Obviously a lot of the rhetoric is meant to amuse but one thing is certain, the date night tickets are popular with guests and with the performers. "Not everyone can afford to be a sugar daddy but with these discount tickets just about anyone can roll in like a sweet and low daddy."
Twisted Cabaret plays through May 26th at Hales Palladium in Seattle's Fremont neighborhood. Go to http://www.twistedcabaret.com for tickets and information. Date night tickets are VIP tickets for two with a $20 discount.