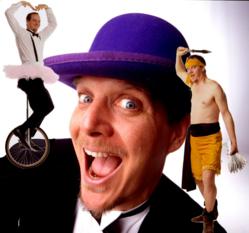 It's a rare and wonderful treat to perform for a studio audience
Seattle, Washington (PRWEB) April 30, 2013
Frank Oliver joins host Margaret Larson on KING-5's New Day Northwest on Wednesday, May 1st. Show airs live at 11am.
Watch while Frank surprises and delights Margaret and the live studio audience. Better yet, come join in on the fun and be a part of New Day Northwest's live studio audience. Fill out the online form to attend. A bonus treat for those in the audience on Wednesday are complimentary tickets to Twisted Cabaret!
Frank Olivier recently disclosed plans for his appearance on New Day saying, "I'm really excited about performing on New Day Northwest. It's a rare and wonderful treat to perform for a studio audience. This is going to be a blast!"
Twisted Cabaret premiers at Hale's Ales Palladium Theatre in Seattle's Fremont neighborhood on Thursday, May 2nd and runs until May 26th. Visit the Twisted Cabaret website for more information and to purchase tickets.
New Day Northwest is a local talk show on KING 5 airing Monday-Thursday at 11am. The show focuses on the people, activities and interests that make the Northwest the best place to live.