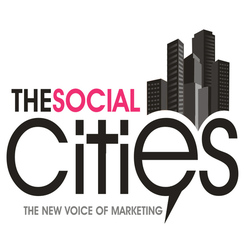 The Social Cities began with the mandate of creating a win-win situation for both business owners and clients.
New York, NY (PRWEB) May 08, 2012
Follow us on LinkedIn - Tatiana Jerome, CEO and Founder of The Social Cities, offers top-notch Twitter marketing services designed to meet the needs of midsize and small businesses.
"We recognize that all businesses regardless of size deserve effective targeted marketing solutions tailored to reach their audiences," Jerome said. "This is why we developed the Twitter services for our clients."
Jerome believes that cultivating brand awareness for companies by using creative branding techniques can translate into increased sales for businesses. "We recognize that many businesses are unaware of how important target marketing is to corporate branding efforts." Through social media and effective target marketing, any company can bolster its online reputation to a point where it can reach and engage its desired audience, she states.
Companies who take advantage of all available marketing opportunities possible through the various channels enjoy greater access to a broader audience. Through the use of social media platforms like Twitter, companies can build brand awareness and attract new leads.
The Social Cities now offers Twitter marketing solutions in which businesses are able to connect with the intended audience to market their products and services. The Twitter campaign is designed around the company's marketing objectives. When the Twitter strategies are properly implemented, the brand begins to attract the desired audience to broadcast the messaging to. "We like to focus on the quality of the followers attracted through Twitter," Jerome explains. "Reaching fewer audience members most likely to buy a product will likely add more to the company's bottom line than attracting large audiences with little interest in the item being promoted."
What does targeted marketing accomplish?

Quality leads for a business. Companies can invest more in marketing strategies that yield the best results.
Improved lead generation results. Immediate measurable results make it easier to score leads.
Potential to discover new marketing opportunities. Twitter campaigns that work well can be quickly analyzed, providing a possible springboard for new marketing strategies for other products or services.
Opportunity to build on existing campaigns. Conventional marketing campaigns that generate a decent response from an audience can be used in the development of targeted Twitter strategies.
Ability to maximize spending on social media marketing efforts that yield results. Businesses can allocate more advertising dollars to certain campaigns to increase the volume of leads.
According to research, 450,000 new Twitter accounts are created daily. Every second, there are 18,000 search queries conducted. Seventy-five percent of users are more likely to purchase from a brand they follow. Taking advantage of this platform for social media marketing efforts can really benefit small and mid-size businesses. With the right Twitter campaign, a company can properly target, cultivate and message the right audience.
The Social Cities would like to invite midsize and small businesses to attend a free 30-minute webinar on social media marketing to see what targeted marketing solutions can do for businesses. Interested parties can contact The Social Cities by email at [email protected] for more info. Follow The Social Cities on Twitter @thesocialcities and Tatiana Jerome @tatianajerome.
About The Social Cities:
The Social Cities creates and develops marketing strategies for small and midsize businesses to assist in branding efforts. The company specializes in targeted marketing using various social media platforms, including Twitter.