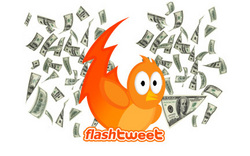 New York, NY (PRWEB) September 28, 2009
FlashTweet values supporters who spread the word about this powerful Twitter marketing tool. To show this appreciation, FlashTweet has launched its Affiliate Program, offering $3 for each referral that results in a paid sign up. This is one of the first affiliate programs offered by a Twitter application. There's no limit to the number of people a supporter can refer.
What is FlashTweet?
To fully harness the marketing power of Twitter, users must acquire targeted followers. Ideally, Twitter users want to have several dedicated followers who are interested in their company/brand/word, etc. FlashTweet is a Twitter application that simplifies the process of acquiring more targeted followers.
As a FlashTweet member, users can: add multiple Twitter accounts to their profile, discover Twitter users they are following who are following them back, mass follow users based on search terms and location, unfollow multiple friends at once (following only those who support them back), schedule tweets in advance to run throughout the week, and insert RSS feeds that will automatically tweet the title and link of their blog or another site. FlashTweet offers all of its features to try free for 14 days. To continue service, users can sign up for $6.95 a month membership.
Twitter is growing at an accelerating rate, becoming the world's most popular social networking site. By the end of the year, some 18 million U.S. adults will access the microblogging service on any platform every month. That's more than the population of Switzerland, Singapore, and Norway combined⎯ and also a 200 percent increase over 2008 stats[1]. As this platform grows, businesses have just begun to tap the marketing powerhouse that is Twitter. As such, there is a high demand for a solution (FlashTweet) to help users grow their follower network and their business.
If a potential affiliate is new to FlashTweet, s/he can send an email to affiliates@flashtweet.com to request an affiliate account. Potential affiliates who are currently FlashTweet members can login to their accounts, click on the Affiliate tab on the top right, and retrieve their unique Affiliate tracking URL.
Affiliates will receive a monthly payout for their earned commission. FlashTweet pays all commissions on the 15th of every month. All payments are made via PayPal. (Users must have a PayPal account to become affiliates.)
[1] Twitter's Growth Continues to Surprise with 200% User Increase Since 2008 - MaximumPC.com - 9/15/09
###