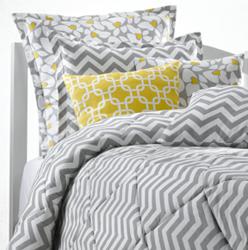 "Being certified sends a powerful message that our company is committed to American manufacturing, jobs, and the economy."
Louisville, KY (PRWEB) December 17, 2012
After only one year in business, American Made Dorm & Home has been audited and certified for manufacturing its home bedding and dorm bedding in the United States by Made in USA Certified. Any company bearing the USA-C™ Seal has gone through a rigorous supply chain audit to ensure that the product and process originates in the United States of America. This independent certification and USA-C™ seal ensures the products produced by American Made Dorm & Home are made in the USA. Caroline Eager, Founder, stated, "This is a powerful message that we are committed to American jobs and the American economy. There is a learning curve for the consumer when it comes to buying "American made."
Consumers who seek American made products need to look for a Made in USA label. A comforter shell that is made overseas with overseas fabric and then shipped to the U.S. for "filling" does not constitute made in America. In addition, some companies misrepresent their products as true "American Quality" or claiming "American Heritage" when in fact they are manufacturing overseas. Having the USA-C™ seal provides assurance that the products manufactured by American Made Dorm & Home are truly made in America."
American Made Dorm & Home offers custom home and dorm bedding available online at http://www.amdorm.com. Dorm bedding is marketed both online and to colleges under American Made Dorm®. The company manufactures comforters, accent pillows, valances and curtains made in the USA. They also carry American made towels and rugs. Dorm bedding includes the convenient Twin XL Dorm Bundle, shipped to home or school. This is particularly popular with international students, who can have their entire bedding bundle shipped directly to school.
The company was founded in 2011 to create a convenient way for college and boarding school students to buy quality American made dorm bedding. Due to customer demand, American Made Dorm® expanded to provide custom home bedding under American Made Dorm & Home. The company is a women-owned small business headquartered in Louisville, Kentucky, with manufacturing in the Carolinas.