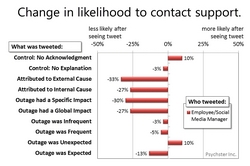 The study tested whether companies should tweet about an outage, who should do it, and what if any explanation should be given.
Seattle, WA (PRWEB) March 8, 2011
Microsoft Learning, who helps assess, train, and certify software professionals in over 140 countries, has published a collaborative study with Psychster Inc., a research firm specializing in the psychology of social media, to determine how best to use Twitter to reassure users during a site outage.
Major outages at Facebook and Skype last year showed that companies are increasingly compelled to address them on Twitter, where within minutes of an interruption in service, users will create search terms to seek more information.
The goal of the Microsoft/Psychster study was to determine who should tweet about an outage, what if any explanation should be given, and how customers react. The study employed a unique experimental design which showed videos depicting various ways that @MSLearning might address an outage on Twitter, and then measured respondents' reactions.
The results suggested that:

Acknowledging the outage on Twitter reduces negative feelings and increases the perception that the responsible company cares.
Giving an explanation for the outage in the tweet reduces users' likelihood to contact customer support – but only when the tweets are made by an employee rather than the company or its executives.
Additional results and the full methodology are available from the whitepaper.
"Companies are often encouraged to 'join the conversation' on Twitter, but there is still very little guidance as to what they should say." said Tom Moran, Director of Microsoft Operations Customer & Partner Experience. "The Psychster study will help us stay connected with our customers and partners by acknowledging their experience, reassuring them, and informing them what their options are in the most relevant and useful way."
"Our other research with Microsoft Learning has consistently shown that their customers are satisfied and engaged with them through social media channels like the Born to Learn blog." said David Evans, Ph.D. of Psychster Inc., "So we wanted an equally data-driven answer as to how to use Twitter during an outage. Once we had the results, it was interesting to look back to past tweets made by other large companies during outages and discuss in the whitepaper whether or not they were effective."
About Microsoft Learning
Microsoft Learning builds innovative learning products that enable people to make the most of their investment in Microsoft technology. They serve the needs of customers and partners worldwide through classroom training, e-learning, certification, Microsoft Press books, skills assessments, and more. Visit Microsoft Learning, follow @MSLearning, or stay current at Born to Learn.
About Psychster Inc.
Psychster Inc. is a Seattle-based usability and user-research firm specializing in the psychology of social media since 2006. Psychster assists clients to align their social media strategies with the social, cognitive, and motivational dispositions of their users. Psychster's research toolbox includes remote usability testing, multivariate video scenario surveys, psychographic segmentation, business-intelligence databases, and beyond-the-click campaign effectiveness studies. Psychster also lectures and publishes original research on the psychology of social media. For additional information, please visit Psychster.com our site or follow @Psychster.
# # #