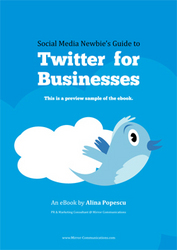 "The eBook was a natural response to a great demand for quality advice on using Twitter for business purposes."
Bucharest, Romania (PRWEB) February 24, 2011
PR agency Mirror Communications has released the "The Social Media Newbie's Guide to Twitter for Businesses," a simple guide helping companies and freelancers get started on the popular social network and to help them get the best businesses outcome out of the time invested in tweeting. In order to show businesses and individuals how to get results out of microblogging, the "Twitter for Businesses" eBook analyzes the mindset needed to be successful on Twitter, effective techniques of posting and interacting with followers and the patterns of successful users.
As Twitter gains popularity, more and more companies and freelancers get an account, but very often fail to see any results after putting in considerable effort. In many instances the decision to become a Twitter user has been powered by the wrong reasons and the persons managing the account are unfamiliar with how this social site works and what its users expect from those they follow. "The Social Media Newbie's Guide to Twitter for Businesses" offers a straightforward explanation on how the microblogging platform works, examples of what to do and not to do on Twitter, strategies that are easy to implement and examples of how power users (or Twitter influencers) make it work.
"The eBook was a natural response to a great demand for quality advice on using Twitter for business purposes," explains Alina Popescu, Mirror Communications CEO and author of the Twitter guide. "After writing several articles on Twitter issues and noticing their great popularity, I have decided to write an easy to use guide that would get businesses started on Twitter and help them avoid the mistakes many of their peers make."
Who should read the ebook?

businesses looking to integrate social media in their overall communication efforts
employees tasked with promoting their activity and the company employing them on Twitter
consultants, coaches and trainers wanting to establish themselves as experts in their field and attract new clients through Twitter;
all of the above Twitter users who think their performance needs improving
new Twitter users in general that want to make the best out of their social media experience, build relationships withing their community and reach their online goals.
The "The Social Media Newbie's Guide to Twitter for Businesses" can be purchased on the Mirror Communications website. Those interested in fresh marketing and PR advice sent to their inbox regularly along with the latest PR services and training discounts from the PR agency, are invited to sign up for the Mirror Communications newsletter and get the Twitter ebook for FREE.
About Mirror Communications
Mirror Communications is a PR agency focusing on integrated communication strategies for companies in the IT&C and tourism fields. Established in 2008, the company specializes in online PR and social media campaigns.
Mirror Communication's method is simple and highly effective: fist learn everything about a client company, their customers and their competition; based on their needs, develop an optimum strategy and employ the best online and offline PR tools and methods to help the business grow. Find out more on http://mirror-communications.com
###