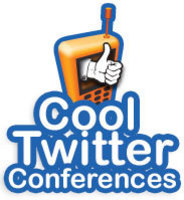 We are very excited about hosting the second stop of the Cool Twitter Conference World Tour at Croce's Restaurant and Jazz Bar
Washington, DC (PRWEB) July 2, 2009
Washington, DC-based technology group, The Cool Blue Company LLC announces "The Cool Twitter Conferences World Tour" second stop taking place in San Diego, CA on Wednesday, July 15th at Croce's Restaurant and Jazz Bar, 802 5th Avenue, San Diego, CA 92101 in the heart of the Gaslamp quarter.
The Cool Twitter Conference provides an environment for developers, people in business, and enthusiasts from multiple disciplines, who seek to understand and maximize the power of Twitter, the chance to contribute to the discussion and tap into this real-time use of the web. This forum is ideal for advertising and marketing professionals, business owners looking to increase visibility and improve customer experience, and anyone looking to polish their brand or to become more informed on the subject.
For the uninitiated, Twitter is the free real-time web service that allows millions of users to send frequent, short updates - up to 140 characters - to "followers."
"We are very excited about hosting the second stop of the Cool Twitter Conference World Tour at Croce's Restaurant and Jazz Bar," said Ingrid Croce. "Croce's award winning restaurant is a tribute to my late husband singer-songwriter Jim Croce. And in his honor we offer delicious American contemporary cuisine, live jazz nightly, and welcoming hospitality all in the heart of downtown San Diego's Gaslamp quarter. We also have a fabulous new dining website called Ingridslist.com. Ingrid's List is the only website that provides fine dining certificates for three-course prix fixe meals for $30, $40 and $50 at exclusive dining establishments year-round. Check us out!"
In addition to the conference, there will be a "Twitter Beginner Boot Camp" in session from 8:30am - 10:00am, aimed at educating and helping participants to become more familiar with the basics of Twitter and its potential applications.
Organizers are calling for speakers for this and upcoming conferences, encouraging submission of abstracts from individuals interested in presenting on Twitter. All topics are welcome, including for-profit and non-profit ideas, government, culturally impacting social media applications and development APIs.
Upcoming Cool Twitter Conferences Tour Cities/Dates:
1. Seattle - Monday, July 27th, 2009
2. Los Angeles - Friday, July 31st, 2009
3. Chicago - Wednesday, August 5th, 2009
4. Cleveland - Friday, August 7th, 2009
5. Ottawa - Tuesday, August 11th, 2009
6. Toronto - Thursday, August 13th, 2009
7. Atlanta - Wednesday, August 19th, 2009
8. New York - Wednesday, August 26th, 2009
9. San Francisco - Wednesday, September 2nd, 2009
10. Boston - Wednesday, September 9th, 2009
A current list of speakers and more details about the conference can be found online at the Cool Twitter Conference site: Cool Twitter Conferences (http://www.cooltwitterconferences.com)
About The Cool Blue Company LLC
Robert Fine founded the Cool Blue Company LLC (http://coolbluecompany.com). Robert has over 15 years experience as a systems and sales engineer with various companies including CMGI, Hughes Network Systems, and most recently as Senior Director of IT for Global Strategy & Development at Conservation International (CI). He is currently pursuing his PhD at George Mason University where he is researching links between investments in information technology and achieving conservation outcomes.
###