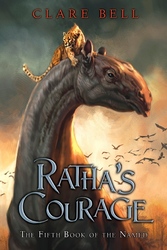 The narrative oscillates between deep description, world building - an amazing array of visuals, smells, and kinesthetic responses - and action, with some ruminative passages providing background. The characterization is successfully realized, rich in nuance, and alive with individual quirks and humor.
Patterson, CA (PRWEB) March 11, 2009
"Ratha, female leader of the Named cat clan, paused on the meadow trail, one forefoot raised."
When Clare Bell sends that sentence through Cyberspace on March 14, she'll be launching an experiment: a novelette told 140 characters at a time using the rapidly growing Twitter social networking platform. Bell writes the Named series, young adult science fiction about a
developing civilization of sentient prehistoric cats.
Bell has been making creative use of the Twitter platform, which allows members to send status messages limited to 140 characters in length. She recently posted a prequel to her newest book, "Ratha's Courage," and her feline characters make humorous comments on everything from last year's Presidential election to human Valentine's Day mating rituals.
Bell's experiments with Twitter encouraged her to write a short story specifically for posting on the service. Although she isn't the first to experiment with Twitter fiction, it's still mostly unexplored territory, and Bell had to figure out how to create a story that would work within the very short messages allowed by Twitter. She considered telling the story entirely in dialog, with each character having its own Twitter username, but finally decided a straightforward narrative would be easier to follow in such short segments.
The novelette was written out in advance, edited by Bell's editor at publisher Imaginator Press, and optimized for Twitter, a process the two call "Twitterization."
Each day, Bell will post several Twitter messages, or "Tweets," like these:
"Even the sky, choked with low clouds, seemed a threat. Ratha lifted her head, narrowing her eyes."
"Just below the clouds two shapes circled. Yes, they were birds, probably eagles, but she had never seen eagles this large."
Bell intends to collect and post each day's tweets on a website, so that readers who join in the middle can catch up. Daily story updates will also be posted on the Ratha and the Named Facebook page.
The new tale, "Ratha's Island," will launch on March 14 in honor of another Ratha story by Bell, one that was just published in a more traditional format. That story, "Bonechewer's Legacy," is included in the anthology, "Firebirds Soaring: An Anthology of Original Speculative Fiction." This collection, edited by Sharyn November and published by Firebird Books, was released on March 5.
The Named series follows a civilization of sentient cats, and focuses on a young female named Ratha, a rebel and outcast who brings change to the clan. The Named series is set 20 million years ago, in a fictional version of Miocene Epoch Northern California.
The first book in the series, "Ratha's Creature", was published in 1983, after science fiction writer Andre Norton, sometimes called the Grande Dame of Science Fiction, recommended the manuscript to legendary editor Margaret K. McElderry. "Ratha's Creature" earned a starred review from Booklist, won awards from the International Reading Association and the PEN Center, was a nominee for the Locus Awards, and was included on the ALA Best Books for Young People list. Three more books followed: "Clan Ground," "Ratha and Thistle-Chaser," and "Ratha's Challenge."
The series eventually went out of print in the late 90s, and Clare Bell turned to her other love, building and racing electric cars. But fans kept the series alive on the then nascent Internet, with fan discussions, fan art, and Ratha role-playing sites. Through the fans, Ratha came to the attention of Sharyn November, Senior Editor, Viking Children's Books and Editorial Director of Firebird Books, who created new reprint editions of the original four books. Bell returned to writing and added a fifth book to the series, "Ratha's Courage," published in October 2008 by small publisher Imaginator Press.
About Clare Bell:
Clare Bell is a scientist, engineer, and author whose work has taken her to Norway to build electric cars, to Tahiti for research, to Marine World/Africa USA to meet a cheetah, and into the depths of prehistory to develop the Ratha series. Bell and her husband live in the hills west of Patterson, California, where they have their own solar and wind systems.
Firebirds Soaring: An Anthology of Original Speculative Fiction
edited by Sharyn November
Firebird Books
ISBN: 9780142405529
Ages: 12 and up
Publication date: March 5, 2009
Ratha's Courage
The Fifth Book of the Named
by Clare Bell
Imaginator Press
ISBN: 9780974560366
Classification: Young Adult Fantasy
Ages: 14 and up
Publication date: October, 2008
Trade paperback / 384 pages / $12.95
For more information: http://www.imaginatorpress.com/twitfic
Awards for the Named series

IRA Award, 1984 (Ratha's Creature)
PEN Center USA Award, 1983 (Ratha's Creature)
ALA Best Books for Young People, (Ratha's Creature, Clan Ground, and
Ratha and Thistle-Chaser)

Locus Award nominee (Ratha's Creature)
Booklist Starred Review (Ratha's Creature)
Praise for Clare Bell:
"The narrative oscillates between deep description, world building - an amazing array of visuals, smells, and kinesthetic responses - and action, with some ruminative passages providing background. The characterization is successfully realized, rich in nuance, and alive with individual quirks and humor."
-- VOYA review of Ratha's Courage
"... the setting is richly realized, characters have vitality and credibility both as felines and as intelligent beings, and the theme of rebellion cum advancement is brilliantly developed, making this a powerful, moving, and memorable story that will draw readers right in and hold them to the final page."
-- Booklist, March 15, 1983, Starred Review (Ratha's Creature)
"Powerfully written, the reader is immediately enveloped in a vividly recreated past world that could have easily be happening now or in the future.... Despite the turbulence of life around her, Ratha is portrayed with such sensitivity that her very fears, thoughts, frustrations and anxieties are humanly comprehensible."
-- Language Arts, Vol. 60 No.7 Oct 1983 (Ratha's Creature)
"Readers of fantasy who demand excellent craftsmanship, complex characters, a compelling plot, and fresh insights into family and society will be more than satisfied with this powerful novel."
-- School Library Journal (Ratha and Thistle-Chaser)
###