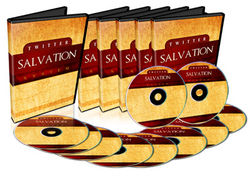 That's what the Twitter Salvation System 2.0 was designed to address.
Humble, TX (PRWEB) August 5, 2009
Puppet String Marketing today announced the release of Twitter Salvation System 2.0, the second edition of the popular Twitter marketing program to truly give business owners an easy and convenient way to create profitable, trackable and tangible Twitter marketing campaigns on the fly.
"In talking with the business and marketing community, one thing that became very clear was that they were in serious need of a Twitter business handbook that would make it easy for them to effectively monetize Twitter as a marketing channel," said Kenneth Yu, the CEO of Puppet String Marketing, LLC. "That's what the Twitter Salvation System 2.0 was designed to address."
The major problem most business owners experience is to cut through the media hype and develop a Twitter marketing strategy that is actually profitable.
"The initial response to the original release of the Twitter Salvation System has been even better than we expected," continued Yu. "I think what we're seeing here is that business owners are drawn to some of the other benefits as well."
For example, Yu said that many marketers were finding the C2C (Consumer-to-Consumer) Personal Branding module an important added plus--a feature not available in most other Twitter business courses. "We thought it was important, when creating the Twitter Salvation System, to give even more than what people were asking for," said Yu. "That's why we didn't stop with just the obvious angle. We really tried to cover all the bases."
With the Twitter Salvation System 2.0, business owners will discover:

How to generate high-qualified leads for free.
How to transform your Twitter followers into a low-cost but effective word-of-mouth sales force.
Quick and easy tricks to become the authority in their niche in under a month.
Three simple yet effective ways to create a tribe around their brand.
What they must do to get into the captain of the industry's rolodex.
Puppet String Marketing LLC is an online marketing education company and consultancy that has masterminded of numerous 7-figure internet marketing campaigns for their clients. Puppet String Marketing teaches businesses of all sizes social media best practices. Puppet String Marketing's CEO Kenneth Yu was a featured speaker in Marketing Practices' high-profile Twitter TeleSummit event and have shared speaking engagements with luminaries like Sir Richard Branson, Joe Polish and Yanik Silver.
The Twitter Salvation System 2.0 is the re-release of Puppet String Marketing's flagship product. Puppet String Marketing is one of the industry's most respected resources of online marketing education. Customers can order the limited-edition Twitter Salvation System 2.0 by clicking http://salvationsystem.com .
ABOUT KENNETH YU:
Kenneth Yu is the CEO of Puppet String Marketing, LLC., a marketing consultancy. He has been called "the Puppet Master" for his combination of old-school persuasion techniques and new-world social media technology. Subscribe to his free newsletter at http://darksideoftwitter.com . Kenneth is also the creator of Twitter Mind Control, a video course on the tenets of social media psychology. Find out more at http://twitmindcontrol.com .
###