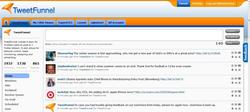 We're always working on new features, but we're really proud of the latest set of enhancements. We think TweetFunnel provides the core functionality that any business, non-profit or other organization needs to make a coordinated Twitter effort
San Francisco, CA (PRWEB) September 10, 2009
TweetFunnel, the Twitter tool for team tweeting, has expanded its feature set to drive even more value for organizations that have more than one user who submits tweets. New features include: management of multiple accounts, statistics tracking for links using automatically shortened Bit.ly URLs or BudURLs, and the ability to create and save searches. All of this is wrapped in an improved graphical user interface (GUI) that maximizes the use of screen real estate.
New Features:

Redesigned look and feel: A more attractive interface with better use of screen space.
Multiple Accounts: Users can manage multiple Twitter accounts from a single interface. They can also publish one tweet to many accounts with a single click.
Click Tracking: Now, users can integrate their Bit.ly or BudURL accounts with TweetFunnel for easy statistics tracking. An administrator simply has to enter their organization's Bit.ly or BudURL API key into TweetFunnel and URLs will be automatically shortened and tracked.
Saved Search: Users can create and save searches on topics of interest to them.
Use of CoTags to automatically identify tweeters
Improved performance and caching in order to reduce dependency on Twitter's performance and availability
Background and Benefits of TweetFunnel:

TweetFunnel makes it easy to manage multiple users who tweet to one or to multiple Twitter accounts. TweetFunnel has been described as "water wings for Twitter," as it makes it easy for any organization to dip its toe into the Twitter stream.
Provides the ability to monitor, assign and schedule tweets.
Editorial control lets managers decide which users can publish directly to Twitter and who needs to have tweets approved first.
Since its release in late May, thousands of businesses, non-profits, news organizations, sports teams, civic groups and other organizations have signed up for the service.
Management Quotes:

"The ability to manage multiple accounts from TweetFunnel was our number one user request, and we think the addition of this feature has made the application exponentially more useful," said Andreas Wilkens, the CEO of Cloud10Apps, TweetFunnel's developer.
"It was very important for us to keep the application as easy to use as possible, while still providing a pleasant user experience," said Wilkens. "That's why we've implemented a new look and feel that's more polished and makes better use of screen space."
"We're always working on new features, but we're really proud of the latest set of enhancements. We think TweetFunnel provides the core functionality that any business, non-profit or other organization needs to make a coordinated Twitter effort," said Wilkens.
About TweetFunnel:
TweetFunnel makes it easy to have multiple contributors to one Twitter account and it includes a layer of editorial control. TweetFunnel was developed by Cloud10Apps, a full-service provider of cloud applications and mobile solutions. For more information, go to: tweetfunnel.com
###