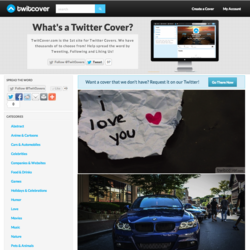 TwitCover.com is a new, feature rich destination for Twitter Headers.
Bethpage, New York (PRWEB) October 01, 2012
As the Internet matures aesthetically, more options are emerging for users to customize their social media profiles. This change has now spread to Twitter with the release of the Twitter headers. TwitCover.com is a new website from GraphicFlash LLC that offers a library of quality header images, as well as empowers users to create their own with an intuitive header creation tool.
A Twitter header, also known as a cover or banner, is an image that is located right at the top of a user's Twitter profile. Previously, users could only represent themselves by their small profile picture and a blurb of text describing themselves. Now users can choose a large header behind that picture and text. This enables both users and companies to better represent themselves and make a stronger, more personal impression upon those who view their profile.
TwitCover.com boasts a large, growing library of covers that users can choose from in order to customize their profile. Designed by the professional designers at GraphicFlash LLC and organized by category, the covers on TwitCover.com are both polished and diverse. Currently, images must be downloaded and then uploaded to the user's profile. Upon Twitter's update of the developer API, however, users will be able to log in with their Twitter account and apply covers directly to their profile. The easy to use interface and quality of content are things which the developers of TwitCover.com pride themselves on and are sure to lead to the success of the website.
In addition to the library of Twitter Headers, TwitCover.com offers its users an intuitive, feature-rich header creation tool. Users can import multiple source images, apply effects, and add custom text, as well as drag, resize, and manipulate the images however they desire. After they have created their header, the user downloads the completed image, which they then upload to their profile. This strongly expands on the header upload tool offered by Twitter, which only allows the user to select a single image and zoom in or out. Additionally, user-created headers are uploaded to the image database on TwitCover.com, further expanding the large library of available headers.
The idea of a cover image to add to a user's profile is not new to the social media world; over a year ago, Facebook began promoting their new Timeline profile, which featured a large cover image. This idea is very similar to what Twitter has done with their header image option. When the Facebook cover feature became available, GraphicFlash LLC created the world's first Facebook cover website myFBCovers.com. It is a website with a large database of cover images as well as a custom cover creation tool, a photo collage creation tool, and more. Since myFBCovers.com was launched, it has skyrocketed to its position as one of the top sites for Facebook Covers and has been featured on many websites and blogs, including MSNBC, TechCrunch, Yahoo!, CNet, All Facebook, and The Washington Post Online. It has served over 100,000,000 pages to over 10,000,000 visitors, gained almost one million Likes on Facebook, and has had its covers downloaded over 3,500,000 times. The developers at GraphicFlash LLC expect to see the same type of success with TwitCover.com if not better. In the time since its release, myFBCovers.com has matured into an even more user-friendly website, and these design choices are what helped build TwitCover.com.
As the ability to use a Twitter header is relatively new, only having been released on September 18th of 2012, TwitCover.com is the forerunner on what will likely be a popular niche as time goes on. By making the site available very soon after the header feature was made available by Twitter, the developers are cementing their place in the industry and establishing TwitCover.com as a prime destination for Twitter Covers.