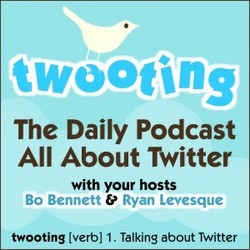 I was not an early adopter of Twitter
Sudbury, MA (PRWEB) March 30, 2009
Twitter, Twitter, Twitter! That's all everyone seems to be talking about these days, including Bo Bennett and Ryan Levesque who have decided to do it professionally. Despite any affiliation with Twitter the company, Bennett and Levesque have committed to a daily podcast all about Twitter that they call "Twooting", which is available for free download on iTunes or at Twooting.com. Twooting was created to educate and entertain the many millions of people out there already using this social media wonder as well as the many more millions who have heard of Twitter, but not quite sure what it is.
What is Twitter? Twitter is a social networking and micro-blogging service that enables its users to send and read other users' updates known as "tweets", which are text-based posts of up to 140 bytes in length. According to market research company Nielsen Online, Twitter grew by 1,689% from February 2008 to February 2009, beating out every other social network, including Facebook, in terms of growth.
"I was not an early adopter of Twitter", says Bennett. "In fact, just like many others out there, I thought the whole idea was quite stupid and a waste of time. I mean really, who cares what you ate for breakfast. But then curiosity get the best of me and I signed up. It was then very clear to me what the fascination was all about." Bennett should know. He started one of the first web hosting companies, Adgrafix, back in 1995 and sold it in 2001 for $20 million. Since then, he has been in the Internet business running everything from small startups to large data centers. "Twitter is here to stay. The only thing that really stinks about it, is that I did not come up with the idea." quips Bennett.
Listeners who tune in to Twooting can expect to learn Twitter basics, hear advanced tips and tricks, interviews, advice from some top twitterers, latest Twitter related news, and listener submitted questions answered during the listener feedback portion of the show. But don't expect a dry report of the facts. Bennett and Levesque are all about having fun, as indicated by their profile pictures on their website.
Twooting, the podcast all about Twitter, debuted on March 18. Every Monday through Friday at 12:00 PM Eastern time, Bennett and Levesque broadcast a live video feed from their office in Sudbury, Massachusetts where listeners can participate in real time chat. For those who cannot make the live broadcast, the archived shows are available via podcast in iTunes or on their website where listeners can stream the shows on demand.
###