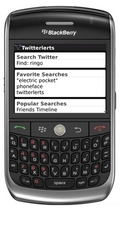 We think Twitter searching has a lot to offer both businesses and individuals, and is an ideal way to use Twitter when mobile
Wye Valley UK (PRWEB) August 27, 2009
Every minute of every day, Twitter users are "tweeting" about businesses, products, celebrities and current affairs. Electric Pocket's new Twitterlerts helps BlackBerry users monitor the global dialogue by automatically scanning Twitter for the user's chosen topics, alerting the user to important changes, and letting them easily tweet or share tweets directly from their mobile device.
The idea behind Twitterlerts is that people can use Twitter to track the global conversation on specific subjects, whether it's about their own business brands, their competitors, pop culture or even favorite sports team. Twitterlerts enables BlackBerry users to track their interests no matter where they are, and react quickly to respond to them.
Twitterlerts has been designed for maximum convenience when mobile, so frequent searches are saved and can be monitored automatically. For high-priority searches, such as a mention of a company's product, Twitterlerts can emit a tone to alert the user when a new tweet is found that matches the search request. Tweets that match the search term can easily be shared by email, to alert others of the breaking news.
Twitterlerts does not require a Twitter account, and can be used by anyone to track topics on Twitter, making it a simple introduction to the world of Twitter. For more experienced users, Twitterlerts enables the posting of new Tweets and Direct Messages, as well as re-tweeting and replying to other users.
"We think Twitter searching has a lot to offer both businesses and individuals, and is an ideal way to use Twitter when mobile," says Iain Barclay, Electric Pocket's Chief Product Officer. "Twitterlerts makes it really simple for our users to track topics that matter to them, and our unique alerting feature means they don't miss out on timely access to important information."
Twitterlerts is available now at Twitterlerts.com for an introductory price of US$4.99. A free trial of Twitterlerts is also available.
About Electric Pocket Limited
Electric Pocket is a privately held company offering leading-edge mobile and wireless computing solutions and services from its base in the Wye Valley, UK. The company's product portfolio includes a rich set of wireless media and messaging applications and solutions. For more information, visit http://www.electricpocket.com.
###