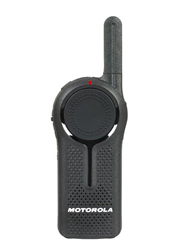 The new Motorola DLR two-way radios are the perfect business communication tool for small, mid-sized and large operations.
MCKINNEY, TX (PRWEB) August 24, 2015
2Way Supply, a leading Motorola distributor, announced that it is now carrying the revolutionary new Motorola DLR two-way radios.
The new Motorola DLR two-way radios offer extreme range of up to 300,000 square feet and 20 floors, operate without the need to purchase licenses, and are designed to be lightweight and easy-to-use. The radios are ideal for businesses across all sectors and industries, including: education, healthcare, hospitality, retail and many others.
"Businesses need efficient, reliable tools to keep their people connected so they can improve efficiency, impress customers, increase ROI, and carry out other essential day-to-day communications," commented Ken Braswell, the owner of 2Way Supply. "The new Motorola DLR two-way radios are the perfect business communication tool for small, mid-sized and large operations."
Other key features of the new DLR Digital two-way radios include:

Immediate response: the radios allow staff to respond immediately to communications
Private communications: the radios use hopping technology to continually change frequencies, which makes it virtually impossible for unauthorized parties to listen in.
Ease of use: the radios are designed for easy operation, and use voice prompts and advanced configuration menus that allow staff to simply pick up a radio and start communicating immediately.
Antimicrobial protection: the radios are constructed with a tough polycarbonate housing that contains built-in antimicrobial materials that inhibit the growth of bacteria and mold on radio surfaces.
Enhanced audio clarity: the radios operate in the 900 MHz ISM, which allow staff to enjoy clear communication across an extended range without static.
Multiple calling features: the radios offer private reply, direct call, call all available, instant mute, talk permit tones and home channel.
Long battery life: the radios feature 14-hour battery life and easy recharging in their individual charging units. Multi-unit chargers that charge up to 12 radios at a time are also available.
More information on the groundbreaking new DLR Digital two-way radios can be found on the 2Way Supply website: http://2waysupply.com
About 2Way Supply
2Way Supply is an authorized Motorola dealer specializing in Motorola 2Way radios, parts and accessories. It is a wholly owned subsidiary and a Texas based business. 2Way Supply (2waysupply.com) serves as an easy-to-use e-commerce site for Motorola 2Way radios and accessories and features low prices on a great selection of needed items for professional offices as well as industrial, entertainment, sports, property management, construction, safety, and business clients.
MOTOROLA, MOTO, MOTOROLA SOLUTIONS and the Stylized M logo are trademarks of Motorola Trademark Holdings, LLC and are used under license. All other trademarks are the property of their respective owners. © 2015 Motorola Solutions, Inc. All rights reserved.