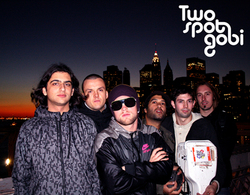 this past Tuesday, February 17th. The much anticipated record features a catalogue of the diverse, yet cohesive amalgam of their constantly evolving sound.
Los Angeles, CA (PRWEB) February 18, 2009
Taking home their recent Effigy Award for The Best Multi-Style Artist on Fame Games/ABC Radio Networks, Two Spot Gobi is committed to making noise throughout 2009. Feeding off their fan's energy from sold out events back home in Brighton and London, UK, to supporting Jason Mraz along his European Tour last year, Two Spot Gobi continues to rise above the average emerging band. With additional Mraz tour dates already scheduled for this coming March and April, the month of February is also jam packed with exciting events.
In their second visit to the states, after performing at legendary venues like The Roxy and The Greek Theater late last year, the unsigned band gets ready to put on a special lounge set for the 1st Annual Leeza Gibbons Oscar Night at Mr. Chow on Sunday, February 22nd. "Positioned as a 'party with a purpose', the Oscars viewing and after-party, benefiting the Leeza Gibbons Memory Foundation and Olivia Newton-John's Cancer and Wellness Centre, will bring together stars from film, TV, music, sports and fashion to celebrate the worlds of celebrity and charity", mentions Leeza Gibbons. As an Oscar first, the evening will be broadcast world wide via live webcast, streamed on ExtraTV.com, Glam.com and Variety.com.
Through industry resources, MusiK1 brings forth Channel M and Delicate Productions to co-sponsor the stage at the Oscar Night event. Delicate Productions has graciously donated audio and sound equipment, while Channel M will be shooting the Two Spot Gobi live performance for a range of retail television networks and original music programming. To name a few, the band will be sharing the stage with David Foster, Olivia Newton-John and Thelma Huston.
Two Spot Gobi, who recently signed a digital distribution deal with MusiK1, has debuted their first full-length release titled 'Everywhere You Should Have Been" this past Tuesday, February 17th. The much anticipated record features a catalogue of the diverse, yet cohesive amalgam of their constantly evolving sound. "We're thrilled to bring Two Spot Gobi on board the MusiK1 label arm and look forward to locking in the management deal with them this week," states Josh East, Sr. Project Manager for MusiK1. The band will be looking to the MusiK1 management team to locate both record and publishing deals within the U.S. and foreign territories once signed on. "In this first month working with the band, we've seen a team effort from organization to planning to execution, and that's what it takes to gain positive results within this music revolution," adds Mr. East.
Two Spot Gobi will be performing an unplugged set for industry relations and a few fans at the Gibson Show Room in Beverly Hills on Friday, February 20th at 6:00pm, with a meet and greet session beginning at 5:30pm. On Monday, February 23rd, the band will also be performing at Hotel Café in Los Angeles. To request an invite to see Two Spot Gobi perform at the Gibson Show Room, Hotel Café and/or more info on the band, feel free to contact Josh East at (909) 556-5424.
MusiK1 web property OpenMusicWire.com is providing a couple Two Spot Gobi songs as a Free Music Download Offer. Feel free to visit http://www.OpenMusicWire.com for the kind offer.
About Channel M:
Channel M is the nation's leading producer of in store retail television networks for brands such as Ecko, Journey's, Macy's, Steve Madden, Nordstrom and others, connecting with over 100,000,000 consumers in 15,000 retail venues last year alone. Armed with a new state of the art production facility in Los Angeles and staffed with a team of talented and experienced TV, film and music producers, editors and designers, Channel M recently announced the launch of Channel M Productions and currently produces over 50 hours of content monthly.
About Leeza Gibbons Memory Foundation:
Developed in response to the challenges Leeza and her family encountered while seeking support in dealing with her mother's Alzheimer's disease, Leeza's Place is a potent source of information, strength and purpose. It provides free resources for caregivers whose loved ones have any chronic illness or disease. We seek to offer comfort and care while on the way to cures for so many health challenges that families face. Leeza's Place integrates educational programs, emotional support and empowerment through innovative programs to help our guests navigate through a difficult reality. Our motto is "Take your oxygen first" and our promise is that you are never alone. There are currently 10 Leeza's Place locations across the country including two in the Los Angeles area.
About MusiK1:
Kingdom One Entertainment Group, LLC (K1EG), established MusiK1 as its music division to concentrate on providing record campaign solutions for the independent artist and label community, with a strong focus in new business development. K1EG has also formed a distribution wing, along with label and publishing arms to aid its signed artists and sub-labels with Label Support and Co-Publishing programs. With a strong focus in new media and the reformation of industry standards, MusiK1's unique operating method allows its resources to be integrated within a wide range of music driven initiatives that stay abreast of music and its consumer's evolution. These ties further ensure the continuity of MusiK1's ability to offer innovative solutions for its partners, allies, clients, and artist and sub-label roster.
About Olivia Newton-John's Cancer and Wellness Centre Appeal:
In this new century, innovations in cancer management require close integration of laboratory developments and research with patients, with scientists and doctors working side by side in a relationship which fosters special synergies. It is within this environment of cooperation that the Olivia Newton-John Cancer Centre will operate. The Olivia Newton-John Cancer Centre will offer patients a specially designed Wellness Centre. In line with Olivia's dedication to the promotion of patient-centred, wellness programs, this centre will focus on the needs of the whole person. The Wellness Centre will provide much needed space to further develop some patient-centred aspects of care, such as relaxation, massage and meditation, as well as providing education and information for patients and their families. It will be a tranquil and inspirational space for patients to actively balance the various aspects of their treatment, including a combination of 'quiet space' for reflection and 'community space' for the sharing of ideas, experiences and support. It will be a special place where people can reaffirm their identity as an individual, not just a cancer patient.
About Two Spot Gobi:
Coming from Brighton to London, UK, the band members of Two Spot Gobi has performed at over 100 events worldwide since their inception in 2005. With four EPs under their belt, the band released their first full-length titled 'Everywhere You Should Have Been' in February of 2009. The album features 'Sunshine Lady', which was released as a download only single in June 2008. An unashamedly up vibe dose of sophisticated summer pop, 'Sunshine Lady' grabbed the ears of celebrity blogger Perez Hilton who praised the track as 'the ultimate summer jam'. Overnight the Gobi MySpace was clogged with around 20,000 hits from smitten new fans, and the band followed up demand for shows stateside with a US TV debut on Good Morning Arizona. This followed with appearances on the East Coast before linking up with Jason Mraz for arena dates at Greek Theatres in Berkley, LA and San Diego. Two Spot Gobi is still supporting Mraz along his European Tour for 2009, and has recently struck exciting performances at the 1st Annual Leeza Gibbons Oscar Night at Mr. Chow and the Gibson Show Room in Beverly Hills.
# # #