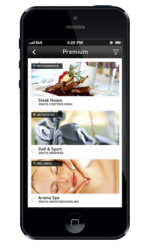 Why would we not be able to also enjoy 2 for 1 offers from the phone?
Dubai, UAE (PRWEB) April 30, 2013
TWOFORONE GO, a Dubai-based startup, has launched the first mobile voucher app in Dubai. The company gives its members 2 for 1 vouchers and has been able to get almost 300 partners offering over 600 discounts in just a few months. The TWOFORONE GO app is free to download on both iPhone and Android smartphones.
It's no secret that people like saving money and getting a good deal in Dubai. In the last few years there has been an increase in printed deal sites and voucher books. However, the smartphone customers seemed to have been overlooked. The growth of people using these devices has been very high, especially in Dubai, a very technology savvy market.
Robert Meza CEO of TWOFORONE GO saw a gap in the market and started - together with his team - to develop an app that could give customers the convenience of using vouchers on their smartphones. "The smartphone has become such an important part of our lives, it is always with us and lets us do so much. Why would we not be able to also enjoy 2 for 1 offers from the phone?" says Robert Meza.
TWOFORONE GO breaks with the traditional printed voucher model and is betting on mobile.The concept is simple, a customer is able to choose and purchase from a variety of 2 for 1 voucher collections from the twoforonego.com website or by downloading the iPhone and Android apps. The most popular collection is the ALL-INCLUSIVE which has over 600 of the 2 for 1 vouchers, is valid for 1 year from the day of purchase and costs only 199 Dhs (54 Usd). Once it is purchased, the offers can be used right from a smartphone at any of the partner restaurants, cafe's, spa's and entertainment venues.
Some of the offers on TWOFORONE GO app include partners like:
Amara Spa
Bice Mare
Options by Sanjeev Kapoor
Kris Restaurant
The Gramercy
Dubai Dolphinarium
The Els Club
Arabian Ranches Golf Club
Surf Dubai
Kids Corner
The app also includes features such as maps, search functionalities and the ability to create lists of favorites. This means that members will have their own private treasure map of great 2 for 1 offers, hidden gems and new favorites, making it more fun to explore and enjoy Dubai
"As opposed to most of the companies that offer deals in Dubai, merchant partners pay nothing to be in the program, no commissions, no hidden fees, no tricks. We built the company to help merchants acquire and retain customers and reach them on their smartphone," says Robert Meza
TWOFORONE GO is already busy expanding the concept internationally and has already opened in Copenhagen and will soon be opening in Stockholm and Hamburg, to name a few cities.
For more information check out twoforonego.com or download the iPhone or Android apps today.