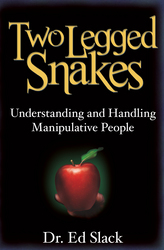 Nashville, TN (Vocus) October 19, 2010
Nashville author Dr. Ed Slack has donated 50 copies of his book Two Legged Snakes: Understanding and Handling Manipulative People to St. Joseph's Indian School in Chamberlain, South Dakota. Dr. Slack describes the book as designed to educate readers about the ways manipulative individuals and media distort the truth and coerce people into making choices that are contrary to their own well being. This is an age where manipulation is at an all time high. If people do not learn the basic techniques of those who act to unduly influence them, they are sitting ducks, waiting for their place on the dinner table.
The public school system does not require classes in logic, argument (sophistry) and media influence. Conversely the average adult in our society is currently subjected to an average of 3000 persuasive (advertising) messages a day, and that's a very conservative figure. Many of these messages, particularly the one's that rely on emotional and symbolic pull, are simply manipulative baloney. People who know the basic forms of argument used to try to shape their opinions, can make better choices, clear of the trickery. Companies who practice honest, positive marketing are very different from their manipulative counterparts. When people are able to see that difference, they make much better choices, are more in control of their lives and are a good deal happier besides.
Another factor that Dr. Slack sees as important is educating people how to avoid being manipulated is the nature of the message itself. "For a lot of folks education in general and books in particular have come to represent boredom and drudgery. That's why I designed Two Legged Snakes to be a fun, fact filled, quick read that's easy to refer back to. The writing style is light hearted and appeals to a wide range of readers, from high school age to septuagenarians. We also use a lot of humorous illustrations to make the book not only enjoyable but memorable. Learning does not always have to be a painful process!" Readers will enjoy this format so much that they'll tell their friends and share it, causing a viral growth pattern for this knowledge and type of book.
This is certainly not the end of the line for Dr. Slack and his war against coercive influences, he plans to do much more in terms of getting the message out with Two Legged Snakes. The book is selling well and has received enormously favorable reviews but he wants to take this message further than the confines of the traditional book world. Dr. Slack and Simple Truth Publishing plan to do many more educational donations of this type, and would also like to partner with organizations and corporations to get the message out on a larger scale. Eventually they hope to go global with this format. The more people are educated about manipulative techniques the better choices they'll make … and that is good for everyone.
###