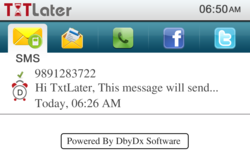 TXTLater - Approaching Million
downloads & counting
New Delhi, India (PRWEB) December 21, 2011
DbyDx Software, a leading provider of mobility solutions for the enterprise & consumer, today announced the launch of the latest version of their application TXTLater for its users. TXTLater, a user friendly, highly rated BlackBerry App and an ultimate SMS/E-mails/Calls Scheduler has now joined the social media revolution and has became a Facebook and Twitter Scheduler too. Now the users can schedule Facebook posts and tweets for selected date, time and recurrence (once, daily, weekly, monthly and yearly) and the respective updates and tweets will be done automatically. TXTLater, will enable Facebook users to post updates in their as well as on their friends walls. TXTLater is one of the most downloaded applications at the BlackBerry App World. Being voted by PC World amongst the top 10 BlackBerry App, and given 5 out of 5 rating by crackberry.com,TXTLater has received tremendous response across the world.The latest version, 3.0, has been designed to support all BlackBerry handsets including OS 7 and comes with an uber cool UI.
With the advent of upgraded OS version of BlackBerry phones and launch of new handsets, the need was felt to upgrade the application in order to suit the new phones. Version 3.0 comes with a much needed UI uplift! The smooth feel of the application, promises it to be more user friendly and appealing to the eye. The interactive user interface and easy navigation highlights its features, making it easy for the users to find their way through the app. The upgraded version of TXTLater has been developed keeping in mind the day to day need of professionals across the world. The software has already been accepted and applauded for its user friendly nature.
This version would enable users with multiple email accounts, to select the preferred account while scheduling emails on TXTLater. The upgraded version of TXTLater would be supported by every network carrier across the world and is offered at a nominal price of US $ 2.99. Downloadable at the BlackBerry App World, this app would support all BlackBerry handset using OS 5 and above. Furthermore, this version is coming with advanced settings, wherein a user can customize account setting in accordance with his/her choice and can enjoy sheer convenience.
About DbyDx Software
DbyDx Software is a worldwide provider of technology, outsourcing, and consulting services to Start-up, Emerging, and Established technology companies. Focusing on enterprise and consumer mobility solutions, DbyDx Software became the first Indian company to submit an Enterprise application for BlackBerry PlayBook. The focus of the company is entirely on maximizing client returns through outsourcing and off shoring. In addition to strategic consulting, the internal technology and operational processes have matured to a level where the company is able to pass on the time, effort, and cost benefits to the clients. From iPhone, BlackBerry, Android, Symbian, Windows mobile, J2ME to Palm Pre, the company builds various mobile apps on these platforms. Most of these applications either provide location based services (such as Vehicle Tracking System, Location based Targeted Mobile Advertising) or are used for enterprise purpose (such as Mobile CRM Client for Sales Force and other CRM tools). For more information on DbyDx please visit http://www.dbydx.com.
One of the most popular app on BlackBerry App World.
Version 3.0 had over 2000 downloads on BlackBerry App world on first day of launch.
Coming Soon on Android and iPhone
###