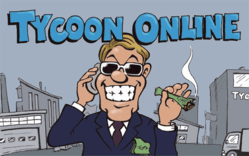 Take classic off-the-shelf games like SimCity, Roller Coaster Tycoon, and Transport Tycoon Deluxe, mix them together, then add a web interface and massively-multiplayer gameplay. That's the recipe for Tycoon Online
Hull, UK (PRWEB) November 05, 2011
Independent online-gaming publisher, Omerta Game Ltd (best known for operating popular Mafia-themed MMO, Omerta) have added evergreen free-to-play business simulation game, Tycoon Online to their roster of browser-based MMO's.
Take classic off-the-shelf games like SimCity, Roller Coaster Tycoon, and Transport Tycoon Deluxe, mix them together, then add a web interface and massively-multiplayer gameplay. That's the recipe for Tycoon Online,a great business-themed simulation game that's fun for the whole family.
Omerta Game Ltd crew manager, Bianca Evers says, "We're excited to be given the opportunity to nurture Tycoon Online's reputation as one of the biggest business simulation games on the internet. Over the last 9 years, TO has grown through player-driven innovation and a stellar network of volunteer crew members – we are going to continue that ethos while bringing the game to a much wider audience".
To celebrate the takeover, Tycoon Online will be launching a new version and game round this Sunday, November 6th, at 4:10pm local time. Tycoon Online's rounds last for 70-days and pit thousands of players against each other in a bid to achieve the highest company value possible.
Tycoon Online is based in virtual Sweden. Players start an in-game company and choose a city in Sweden to be their base of operations. From there, they can build factories, produce goods, sell them on the market or in shops, and transport goods that are bought by other players. There is also a stock market where players can buy shares from eachother, and a bank to take out loans and make investments.
"From cotton farms to clothes shop, you're in charge of staff, production and manufacturing. Do you have it in you to be a real tycoon and grow your company to become number 1?", added Bianca.
Tycoon Online has won plaudits for it's ability to mix easily accessible gameplay and a casual style, with a depth and complexity that keeps players coming back again and again. The business-themed game is entirely free-to-play with no restrictions placed on non-playing players, and with no intrusive advertisements or pop-ups to distract from the gameplay experience.
Cully Williams, a volunteer member of Tycoon Online's 'police', says, "Tycoon Online is one of those games that, once you start, you can't bring yourself to quit. Between managing my factories and clicking for wheat, I'm hooked. This is an incredibly fun game with a great community behind it."
Players can visit the official website now to pre-register a company in anticipation of the November 6th relaunch - http://www.tycoononline.nu/
A U.S. version of Tycoon Online is also available, which is half way through it's current game round.
Local versions of the game will soon be launched for players in Portugal, Belgium, The Netherlands, and Turkey.
ABOUT TYCOON ONLINE
Tycoon Online is a family-friendly, competitive, be-your-own entrepreneur-based MMO. It is free-to-play, browser-based and does not require any downloads or installs. Players compete by building successful businesses and attempt to out-do each other by achieving the highest company value.
Each round has thousands of players and lasts for 70 days.
###