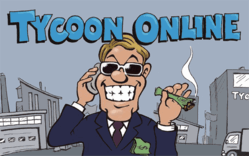 The developers at Omerta Game Ltd have announced a host of important bug fixes for the upcoming round.
Hull, UK (PRWEB) January 26, 2012
Tycoon Online, the popular 9-year old browser-based simulation game, is ready for a new round of business, with thousands of players once again ready to compete against one another in a bid to achieve the highest company value possible.
The new 70-day round, which launched on January 22nd, marks the first time the developers at Omerta Game Ltd have been able to make their own tweaks and improvements to the long standing code base since they purchased the game from ZKNET in November, 2011.
'Squashing the bugs, so players can squash the competition.'
Tycoon Online is based in virtual Sweden and allows players to start their own in-game company in their city of choice. From there, they build factories, produce goods, sell them on the market or in shops, and transport goods that are bought by other players. There is also a stock market where they can buy shares of other players' companies, and a bank to take out loans and make investments.
The developers at Omerta Game Ltd have announced a host of important bug fixes for the upcoming round.
"We've worked hard on bringing the game to a new, higher standard for the next round of Tycoon Online", said Tycoon Online manager, Bianca Evers, "The developers have made good progress squashing all of the current little bugs and errors, and have added a couple of new features we're sure players will enjoy too!"
In keeping with their initial promise, Omerta Game Ltd's changes to the code have strictly followed the "evolution, rather than revolution" path. The light hearted yet surprisingly deep business-simulation MMO is still exactly the same as before, but the code base has been improved to allow for a smoother gameplay experience.
Automatic building numbering during heavy construction periods, fuel/salary deposit discrepancies, and obscure text problems are just some of the creases they've ironed out for the upcoming round.
"We said we'd leave the game alone in terms of how it plays - and that's exactly what we've done! Why fix what isn't broken? Tycoon Online is such a well known and respected name in browser-based gaming that changing it would be tantamount to making the wheel square just for the hell of it", added Bianca.
Tycoon Online has built a reputation on the browser-based circuit for its ability to mix easily accessible gameplay and a casual style, with a depth and complexity that keeps players coming back again and again. The game is entirely free-to-play with no restrictions placed on non-playing players, and with no intrusive advertisements or pop-ups to distract from the gameplay experience.
New players looking to make a mark in the business world of Tycoon Online can either head to the official website and create their own company – http://www.tycoononline.nu/ - or play the game directly in Facebook - http://apps.facebook.com/tycoononline/?ref=ts
Local versions of the game will soon be launched for players in Portugal, Belgium, The Netherlands, and Turkey.
ABOUT TYCOON ONLINE
Tycoon Online is a family-friendly, competitive, be-your-own entrepreneur-based MMO. It is free-to-play, browser-based and does not require any downloads or installs. Players compete by building successful businesses and attempt to out-do each other by achieving the highest company value.
Each round has thousands of players and lasts for 70 days.
###