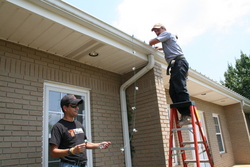 "With such a short window, it's a demanding time, but a fun way to spread a little holiday cheer."
Atlanta, GA (PRWEB) October 4, 2010
The beginning of October marks the time that homeowners and businesses start checking their holiday to-do lists. In response, many landscape contractors put up their mowers and start stringing holiday lights on rooftops across the U.S.
"The business of installing holiday lights is the perfect way for a landscaping crew to diversify when their lawn business freezes up in the winter months," said Mark Crosswell, president of TYGAR Manufacturing, which provides a Rapid Start program called TYGARLights for contractors who want to launch their holiday lights business in a matter of days. "Generally, the season will last about 90 days, with most installations occurring during a 45-day window. "
Homeowners and businesses have a variety of holiday budgets, but even in a recession, outdoor lighting is at the top of the list. "Holiday lighting kindles the spirit, and even in the most modest neighborhoods, it's a Christmas tradition that appears recession-proof." said Crosswell.
The demand in the residential market is growing due in large part to homes that are larger and taller, with rooftops that are too high or dangerous for the average homeowner to install safely. Hectic schedules and cold weather also play a part in homeowners opting for professional help to decorate outdoors.
"Homeowners don't have the time, energy and patience to decorate as much anymore, "said Tim Brown of Olympic Lawn and Landscape Care, in Lee Summit, MO. "Searching the attic, sorting through tangled lights, dragging ladders out into dropping temperatures and traipsing across an icy roof can be daunting to an aging homeowner or two-income family with busy schedules."
According to the U.S. Consumer Product Safety Commission, during November and December of each year, about 10,000 people are treated in hospital emergency rooms as a result of falls, cuts, shocks and burns related to holiday decorating. Landscape contractors hope to turn a profit by relieving homeowners of these hazards and hassles.
With a 10-year history of helping contractors and entrepreneurs launch business opportunities, Crosswell sees the lighting installation services, especially Christmas lights, as a safety net and profitable way for landscapers to diversify and offset the recent decline in the landscape business. "The income generated by lighting installations is very good because the costs are relatively low and predictable. Depending on the size of your crew, contractors can expect to decorate an average of two or three homes a day," said Crosswell. "It really depends on how many jobs you can install, but some crews decorate all the way up until December 20th, and in the first year, likely generate $20,000 up to $50,000.
"With such a short window, it's a demanding time, but a fun way to spread a little holiday cheer" said Brown.
If you are interested in attending a TYGARLights Rapid Start training in October, please contact us toll free at #866-999-9506 or visit http://www.TygarLights.com for a complete package on starting your business venture. TYGAR Manufacturing, LLC, the leader in landscape curbing and decorative lighting opportunities, provides the most complete turnkey equipment solutions available for contractors and entrepreneurs.
###