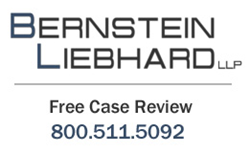 This study serves to remind that acetaminophen may carry some very real risks.
New York, NY (PRWEB) December 19, 2013
As Tylenol lawsuits (http://www.tylenollawsuitcenter.com/) continue to mount in courts around the country, Bernstein Liebhard LLP notes that a newly published study has reported a possible association between the use of acetaminophen in pregnancy and problems with child development. Acetaminophen is the active ingredient in Tylenol-brand over-the-counter medications.
The study, which was published online in the International Journal of Epidemiology, looked at 8,000 Norwegian children whose mothers were surveyed about their medication use at weeks 17 and 30 of pregnancy. They were also surveyed at 6 months post-partum, and were asked to complete a follow-up questionnaire about their child's developmental milestones three years later. The children of women who reported the most frequent acetaminophen use (at least 28 days during pregnancy) appeared to exhibit poorer motor, language and communication skills than other children. They also had more behavior problems, according to the authors of the study.*
"While the lawsuits we are investigating involve allegations that Tylenol can cause severe liver damage, this study serves to remind that acetaminophen may carry some very real risks," says Bernstein Liebhard LLP, a nationwide law firm representing victims of defective drugs and medical devices. The Firm is offering free legal reviews to individuals who may have suffered liver damage associated with the use of Tylenol.
Tylenol and Liver Damage
According to the U.S. Food & Drug Administration (FDA), acetaminophen was the leading cause of acute liver failure in the U.S. between 1998 and 2003. From 1990 to 1998, acetaminophen was blamed for 56,000 emergency room visits, 26,000 hospitalizations, and 458 deaths annually.
According to court documents, at least 100 Tylenol lawsuits involving liver damage allegations are now pending in a federal multidistrict litigation underway in U.S. District Court, Eastern District of Pennsylvania. All of the lawsuits allege that Tylenol products can cause liver damage, even when taken as directed. The lawsuits further allege that many victims of Tylenol liver damage were hospitalized, required a liver transplant, or died, as a result of acetaminophen in the over-the-counter medications. (In Re: Tylenol (Acetaminophen) Marketing, Sales Practices and Products Liability Litigation, MDL No. 2436)
This past summer, Johnson & Johnson announced it was adding more prominent, red-lettered warnings to the labels of Tylenol products regarding the potential for sever liver damage. According to a report from Bloomberg.com, Extra Strength Tylenol – which contains 500 milligrams of acetaminophen per tablet - was to appear with the warnings in October. Other products will bear the warnings in the coming months.**
Individuals who suffered acetaminophen-induced liver damage resulting in hospitalization, liver transplantation or death allegedly associated with a Tylenol product may be entitled to compensation for medical expenses and other injury-related damages. Learn more about filing a lawsuit alleging Tylenol liver damage by visiting Bernstein Liebhard LLP's website. For a free evaluation of your claim, please call 800-511-5092.
*ije.oxfordjournals.org/content/early/2013/10/24/ije.dyt183.abstract, Journal of Epidemiology, October 2013
**bloomberg.com/news/2013-08-29/j-j-adds-warning-to-tylenol-caps-on-acetaminophen-risk.html, Bloomberg.com, August 29, 2013
About Bernstein Liebhard LLP
Bernstein Liebhard LLP is a New York-based law firm exclusively representing injured persons in complex individual and class action lawsuits nationwide since 1993, including those who have been harmed by dangerous drugs, defective medical devices and consumer products. The firm has been named by The National Law Journal to the "Plaintiffs' Hot List," recognizing the top plaintiffs' firms in the country, for the past 11 consecutive years.
Bernstein Liebhard LLP
10 East 40th Street
New York, New York 10016
800-511-5092
ATTORNEY ADVERTISING. © 2013 Bernstein Liebhard LLP. The law firm responsible for this advertisement is Bernstein Liebhard LLP, 10 East 40th Street, New York, New York 10016, 800-511-5092. Prior results do not guarantee or predict a similar outcome with respect to any future matter.
Contact Information:
Felecia L. Stern, Esq.
Bernstein Liebhard LLP
info(at)consumerinjurylawyers(dot)com
http://www.tylenollawsuitcenter.com/
https://plus.google.com/115936073311125306742?rel=author