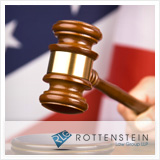 (PRWEB) May 23, 2013
The Rottenstein Law Group LLP, a New York-based nationwide mass torts law firm, has created the Tylenol Lawsuit Information Center at http://www.rotlaw.com/tylenol, dedicated to issues that apply to Tylenol users and those who are considering filing lawsuits.
The painkiller Tylenol (acetaminophen) has been shown to potentially cause severe liver damage, according to a 2009 report from the U.S. Food and Drug Administration.* In the "safety communication," the FDA warned consumers against using more than the recommended dose of the drug.
There are currently lawsuits pending across the United States. In the federal courts, Tylenol lawsuits have been consolidated for pretrial proceedings. Unlike a class action, each lawsuit in the federal consolidation—a multidistrict litigation (or, "MDL")—can have its own trial with potential for a damages award (MDL-2436, U.S. District Court for the Eastern District of Pennsylvania, Judicial Panel on Multidistrict Litigation).
The Rottenstein Law Group LLP offers an easy-to-read, comprehensive page on its website that not only sets out relevant information about Tylenol's side effects and regulatory history, but also provides those who believed the drug harmed them with the ability to contact an attorney to determine if they have a case.
For the latest news on defective medications and medical devices and related lawsuits, visit the Rottenstein Law Group LLP's Injury Lawyer Newswire at injurylawyernewswire.com. Readers can subscribe to the news site's stories and videos to stay on top of personal injury news.
*fda.gov/ForConsumers/ConsumerUpdates/ucm168830.htm
About THE ROTTENSTEIN LAW GROUP LLP
The Rottenstein Law Group LLP is a New York-based firm that represents clients nationwide in mass tort actions. The firm was founded by Rochelle Rottenstein, who has more than two decades of experience as a lawyer, to represent clients hurt by defective medical devices and drugs. (Attorney advertising. Prior results do not guarantee a similar outcome.)
Contact:
The Rottenstein Law Group LLP
Rochelle Rottenstein, Esq.
321 W. 44th Street
# 804
New York NY 10036
(212) 933-9500 (office phone)
(212) 933-9980 (facsimile)
rochelle (at) rotlaw (dot) com
###