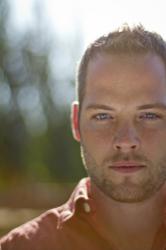 Out of a sea of thousands of bands wanting to play this year's Outlaw Roadshow … Stenson belongs with us.
Portland, OR (PRWEB) February 27, 2013
Adam Duritz of Counting Crows and Ryan Spaulding of Ryan's Smashing Life (rslblog) have teamed together to host an online competition in search of one very special independent artist to feature within their Outlaw Roadshow showcase at this year's SxSW festivities in Austin, TX. Out of 3,549 total band submissions, Tyler Stenson, a singer-songwriter from Portland, OR has been selected as the definitive winner.
Beginning in January, open submissions were accepted for the competition through ReverbNation – as soon as the artists were filtered and officially accepted into the competition pool, it was up to the fans to vote their favorite artist into the Top 10. Stenson's fans spoke loudly.
"I didn't get my application in until the very last day," Stenson admits. "It was only then that I realized it was a fan-powered competition. Because other bands had a full month head start, I immediately issued a call-to-action to my fans and, sincerely, I cannot tell you how blown away I was by the rabid response – I had hundreds of votes within the first hour."
Based purely on the online votes that were accumulated across a number of days, Stenson's fans eventually catapulted him into the contest's official Top 10. From there, Duritz and Spaulding personally sifted through the top contenders and hand-selected their favorite, based on the individual's talent and overall fit into The Outlaw Roadshow family.
After a few days of scrutinizing the top few, the judges had their answer.
"With the delivery of lyrics that leap from the page, Stenson's an artist who's instantly arresting. Everything I heard was worth repeat listening," says Spaulding, a music and entertainment blogger from Boston, MA. "Out of a sea of thousands of bands wanting to play this year's Outlaw Roadshow … Stenson belongs with us."
In all, Stenson's fans had done the work that placed him in the Top 10 but, perhaps more romantic, it was his individual talent that earned him the favor of the judges – judges whose opinions could not have mattered more to Stenson.
"I'm not just saying this because his name is attached to this contest; Adam Duritz is my absolute biggest musical influence of all time," gleams Stenson. "While I'm honored that my fans went to bat for me, as they did, to know that my biggest idol, ever, listened to my music and ultimately hand-selected me above the rest, well, that brought on some tears."
Suffice to say, it has been a strong few months for the Portland songwriter. Having just sold out the Aladdin Theater in October for the release of his tenth album, Some Days I'm a Lion, and fresh off of a string of performances at the Sundance Film Festival in Park City, where he opened for notable acts such as John Popper and Matisyahu, Stenson now has yet another marked accomplishment to add to his resume and a line item to check off of his bucket list.
Tyler Stenson will be performing at The Outlaw Roadshow during the SxSW festivities in Austin, TX on Saturday March 9, 2013.
------
###
Tyler Stenson is an active singer/songwriter in Portland, OR that is increasingly known for his unique brand of elegant folk music. Now back from spending nearly two years in Nashville, he has been twice-named the "Songwriter of the Year" by the Portland Songwriters Association, "Best Male Artist" at the 2011 Portland Music Awards, has opened for Chris Isaak, John Popper and Matisyahu, has performed on OPB's Live Wire! Radio and has landed multiple songs on national commercials and television shows.