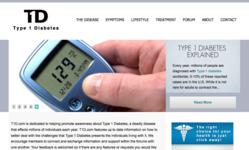 If I can play a small part in raising awareness about the disease and help someone improve their quality of life, that is something I will be extremely proud of.
Delray Beach, FL (PRWEB) April 05, 2012
T1D.com, or Tier 1 Development as it was known until recently, was previously the home to an Internet marketing and development consultancy founded by Sean Sullivan, a veteran consultant to the web and business development industry. Sullivan, who is based out of Delray Beach, Florida, has since shifted his focus to a new business venture that is experiencing explosive growth. After closing down his consultancy, he was faced with the dilemma of what to do with the domain name.
"When I acquired T1D.com from the previous owner I had no idea that T1D was the acronym frequently used to describe Type 1 Diabetes by the medical community. Over the last year, even while my consultancy was in business, I would receive emails and inquires asking if it was for sale. It was such a key component in marketing my services, I just ignored the emails. In hindsight, it now makes sense. It was just a coincidence that a friend, who ironically was unfamiliar with my company website, happened to mention that a family member of theirs had recently been diagnosed with 'T1D'. Once they said it, I immediately did a double take. Then, after they explained the term, my dilemma of what to do with the domain became clear," said Sean Sullivan.
In the months since, Sullivan has been working with writers within the medical community who have knowledge and experience with Type 1 Diabetes. His goal, to produce an informative website and community bulletin board where the public can learn more about and share information regarding the disease and what measures can be taken to improve longevity and quality of life.
The website's launch got off to a great start because, as it turns out, T1D.com had been ranking for months for the coveted keyword term "T1D."
"I never Googled 'T1D' while my consultancy was operating, because for me ranking for 'Tier 1 Development' or 'Tier 1 Domains' was always my goal. 'T1D' didn't mean anything to my business so I just never checked. It's just one of those fortunate coincidences I guess," explained Sullivan.
Fortunate indeed, because as it turns out T1D.com is not only within the top 5 of Google, but also consistently ranks within the first two positions in Yahoo and Bing.
Moving forward, Sullivan is setting out to create a great informational website and community where potentially life saving information is available to those who need it.
"Hopefully people find the information they need on the site, because diabetes, whether Type 1 or Type 2, is something that is clearly a problem worldwide, but especially here in the United States. If I can play even a very small part in raising awareness about the disease, that is something I will be extremely proud of," said Sullivan.
Sean Sullivan's new venture which he co-founded with a business partner, is a financial services technology company called BankAds.
BankAds and T1D are based out of Delray Beach, Florida