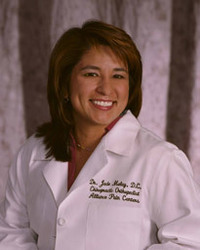 Once I identify the cause, it becomes much easier to effectively treat the disease
Dallas, TX (PRWEB) November 5, 2009
For typical Type 2 Diabetes patients in the United States, there is standard protocol to follow: get a simple blood test, take medication. It's hard to argue that course of treatment when it is so widely used and recommended by doctors everywhere.
But what most Type 2 Diabetes patients don't know, mainly because it isn't the "standard of care" that is being offered from most physicians, is that there are other treatment options that have been extremely successful in correcting blood sugar levels and reversing the disease.
Dr. Jade Malay out of Dallas, Texas has been doing just that. Instead of performing just one simple blood test to determine if a patient has diabetes or not, Dr. Malay spends her time upfront with patients to figure out the cause of their diabetes. She performs a comprehensive panel of tests in the form of blood, saliva, and stool to check the 4 major organs (liver, thyroid, adrenals, and pancreas) responsible for controlling blood sugar levels.
"Once I identify the cause, it becomes much easier to effectively treat the disease" says Malay. Her practice focuses on natural supplements and dietary changes to help patients become less and less dependent on Western diabetes medications. "Most Type 2 Diabetes patients are treated with the same medical protocol, but the problem causing diabetes can be different for each person", says Malay.
Because of the positive results, and the ability to actually reverse Type 2 Diabetes, Dr. Malay has setup a website to get this information out to the public as much as possible. "There must be thousands and thousands of people out there that are struggling everyday to live with the disease, when they shouldn't be" says Dr. Malay. "I just want them to know there are other choices, and a different protocol for treatment".
In a report that Dr. Malay offers to patients on her website, it states that more than likely it's not that your body is lacking the hormone insulin. The problem for the majority of Type II diabetics is that insulin resistance has set in. This basically means that the body has lost the ability to utilize insulin properly. "Continuing to bombard the body with something it no longer recognizes can actually cause more harm than good", says Dr. Malay.
Dr. Malay has also created a blog on her website to serve as a public forum for patients to discuss their own situations, the results they are seeing, and to ask questions and provide feedback.
Dr. Malay has two offices located in the Dallas/Ft Worth metroplex. Her Dallas office is located at the area of Lemmon and the Tollway and is accessible to all parts of Dallas including Downtown, Uptown, Oak Cliff, Duncanville, Arlington, Grand Prairie, Mesquite, Garland, Rockwall, and Irving. Her second location is in the Southeast corner of Hebron Parkway and Josey Lane. This location is easily accessed from Carrollton, Plano, Frisco, The Colony, North Dallas, Lewisville, Flower Mound, Highland Village, Coppell, McKinney, Little Elm, Forney, Sachse, Richardson, Lake Dallas, Denton, Colleyville, Southlake, Farmer's Branch, Addison, and Irving.
For for information, visit http://www.type2diabetessolutions.com or call 972-492-0383.
###