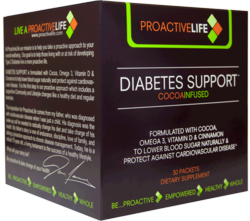 The inspiration to start ProactiveLife came from the founders father who suffers from inherited cardiovascular disease.
Rancho Palos Verdes, CA (PRWEB) March 08, 2012
Diabetes Support Supplements launches a Community of Expert dietitians and exercise trainers operating in the field of diabetes has been assembled by the company ProactiveLife (http://www.proactivelife). The purpose is to provide guidance to type 2 diabetics and pre-diabetics in terms of diet, exercise and natural supplementation. Experts agree proper diet (low in fats and sugars) along with regular exercise is crucial to diabetic management.
According to the Diabetes Prevention Program presented by the National Institutes of Health (NIH) diet and exercise could dramatically reduce the chances of developing diabetes. The DPP's results indicate that millions of high-risk people can delay or avoid developing type 2 diabetes by losing weight through regular physical activity and a diet low in fat and calories. Weight loss and physical activity lower the risk of diabetes by improving the body's ability to use insulin and process glucose. Participants in the lifestyle intervention group-those receiving intensive individual counseling and motivational support on effective diet, exercise, and behavior modification-reduced their risk of developing diabetes by 58 percent.
Type 2 Diabetes is reaching epidemic proportions with nearly 26 million confirmed diabetics and 79 million pre-diabetics in the Unites States. Spending on diabetes will exceed $180 billion in 2012 according to US government statistics. Obesity is the second leading cause of death among preventable chronic diseases. A new proactive approach combining lifestyle modification and natural supplements with clinically proven ingredients is needed.
ProactiveLife (http://www.proactivelife.com) was founded in 2011 to help people living with take control of their health. The approach incorporates community, lifestyle changes, and natural supplements which have been proven to assist people with type 2 diabetes.
The inspiration to start ProactiveLife came from the founders father who suffers from inherited cardiovascular disease. Diabetes Support is unique because it lowers blood sugar levels and provides cardiovascular health which is the number one cause of death among diabetics.
Diabetes Support contains 10 clinically proven ingredients to lower blood sugar naturally including cocoa, cinnamon, omega-3, vitamin D and others. Along with lifestyle changes including diet and exercise Diabetes Support is a new proactive approach to Type 2 Diabetes management.
ProactiveLife
http://www.proactivelife.com