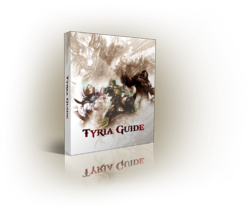 (PRWEB) August 30, 2012
The land of Tyria is a formidable but enticing place for any gamer. On August 28th 2012, Guild Wars fans were finally able to step onto its the GW2 surfaces and start exploring the game. It will not be long before these ill-equipped thieves and untrained elementalists are wandering lost through difficult quests and battles. Players need a guide that can help them understand what to expect from the land and prepare a worthy character, and Tyria Guild Wars 2 guide, with more information at tyriagw2guide.com, aims to provide exactly that.
There are three main objectives when it comes to advice provided by the Tyria guide - producing detailed, easy-to-follow walkthroughs; letting all players, no matter their preference, master the professions; and finally to help them understanding all aspects of PvP. There is a definite appreciation that these elements are some of the most important in the game and that is why they have concentrated on making the information as beneficial and accessible as possible so that they every player can effortlessly progress from level 1 to level 80. Old Guild Wars fans will love the dedication and depth put into the guide while new players will appreciate the simplicity and the beginner's section. This new guide is a product that is accessible, informative and expertly created.
There is no signature attached to this guide that suggest any specific ownership by creators and authors, but that is not necessary because all fans need is the assurance that they will be in possession of a guide from a reliable and adept team that truly understand gamers and the game itself. This is certainly the case when it comes to the Tyria Guild Wars 2 guide. The team of former WOW guild members and Diablo guide writers have spent countless hours playing GW2 before its release and learning the best strategies to bring you the product. They promise to continue updating their pages long after everyone else first sets foot on Tyrian soil.
Thanks to this attitude and expertise, players are guaranteed a guide that is set to make so many aspects of GW2 easier to master. From the moment of registration, members are given access to all the information that they need. This means they can learn about the professions and skills before designing their character and making a tactical error. Players can take a look at the initial quests and objectives in the walkthroughs so they don't take a wrong turn and waste precious time. They can read up on other elements such as healing, crafting and weaponry so they never go into battle unprepared.
Tyria guide is a great tool for any player looking enjoy every aspect of the game. With the Tyria Guild Wars 2 Guide, all players - no matter whether they are warriors, guardians or necromancers - can play through the lands of Tyria. They will be prepared with the new challenges of GW2 style and confidence. This is a guide that is full of useful facts and advantageous strategies. It can only get better the way these top authors are playing and mastering the game.
More details at http://tyriagw2guide.com.