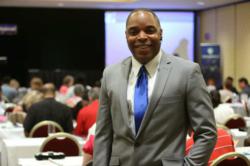 In the end, divorced men and women have the same long term financial goals: build wealth and a secure financial future.
Los Angeles, CA (PRWEB) May 03, 2013
Although divorce is never a pleasant experience, with a little perspective it can be viewed as yet another unexpected opportunity to redirect your financial future," says expert stock market trader and founder of the Wealthy Investor program (http://www.thewealthyinvestor.net), Tyrone Jackson. Jackson teaches Hollywood actors and anyone who's interested in obtaining a financial education about how to invest.
While the proceedings of a divorce are devastating they can provide new unconsidered opportunities for the divorced individuals. Once they move past attorney's fees and the splitting of assets, there's one final thing they must consider: their financial life post-divorce. The reality is that there are many shocking and unexpected life experiences. With a positive mindset, self-directed investors who have learned how to invest and manage their own money can create wealth and residual income for life.
According to Jackson, men and women can experience very different challenges post-divorce. Generally speaking men are filled with resentment. They often feel the burn of having to liquidate their retirement accounts, split assets and pay both alimony and child support. Under these circumstances, learning how to invest and create monthly residual income through trading stocks online can help ease the financial burden and aid in their financial recovery.
On the other hand, women are often left with an unexpected and unanticipated lump sum of cash. They are open to the idea of investing but don't know how. For some, this is the first time they have ever had to take care of themselves. Even if that is not the case, learning how to invest along with everything else that must be done can be a daunting thought but can go a long way towards insuring a healthy financial future.
In his Wealthy Investor program Jackson frequently encounters these men and women with different reactions towards their divorce. He explains, "Due to their unfortunate circumstances, I have to emphasize the importance of a long-term financial plan. In the end, divorced men and women have the same long term financial goals: build wealth and a secure financial future."
Jackson teaches his students several investment strategies to gain this financial security. The first is how to sell covered call options against stocks they own to create monthly income. The next is to collect dividends from Dow stocks and this becomes a long-term investment strategy. The final strategy involves exponentially growing tax deferred and tax free retirement income.
Individuals who have or will face divorce need to remember that it is possible to rebuild their financial life. To do so they need only adopt a new mindset that is based on looking forward as opposed to constantly rewinding and reviewing the past.
A new itinerary of affordable "Wealthy Investor" seminars is being finalized now. Priced substantially lower than typical investment workshops, "The Wealthy Investor" is about reaching the greatest number of people to maximize their good fortune. The next opportunity to learn more is through two free teleconference workshops, "Basics of Stock Market Success," on Tuesday, May 7 & 21 from 7:00 - 8:00pm PDT. Visit http://www.TheWealthyInvestor.net to sign up for the teleconference calls and also get a free "Stock Market Success" newsletter.