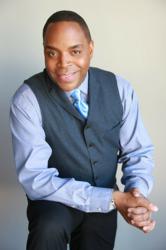 I teach people how to take charge of their finances
Los Angeles, CA (PRWEB) May 29, 2013
Tyrone Jackson has a stock market tip too good to keep to himself. After years of developing sophisticated investment strategies, Jackson now shares his expertise via "The Wealthy Investor," (http://www.thewealthyinvestor.net) a comprehensive financial education program that has already bettered the lives of thousands.
The core message of Jackson's "The Wealthy Investor" is simple. By learning how to buy shares in the right companies, and then employing a technique known as the covered call, investors may generate hundreds, thousands, even tens of thousands of dollars in monthly residual income. But first, that investor must learn new skills.
Jackson teaches those skills, both in his series of "Wealthy Investor" audio CDs and in his fun, fast-paced and informative monthly seminar series in cities across the country.
"I teach people how to take charge of their finances," says Jackson. "There is this myth on Wall Street that making your own investments is difficult. I try to simplify and demystify what happens in the stock market. It's a little bit art and science."
Jackson did not invent the covered call option. It's a venerable Wall Street practice. In simple terms, it occurs when a shareholder sells to others the right, but not the obligation, to buy his or her stock in certain companies. Whether or not the deal goes through, the seller keeps the option fee. Multiply that by thousands of shares, and the potential residual income is almost limitless.
Unlike countless discredited "get rich quick" schemes, the "Wealthy Investor" shows how to create wealth knowledgeably. Jackson teaches how to buy and trade stocks that trend upwards in value, how to profit in a bear market, how to avoid high commissions through online trading, and how to minimize tax exposure.
"The Wealthy Investor" is providing a one day workshop, Basics of Stock Market Trading, that is scheduled on June 1 at LAX Hilton. This workshop will enable Jackson to share his knowledge with a large number of people in order for them to achieve a successful financial future. Visit http://www.TheWealthyInvestor.net to sign up for the workshop and also get a free "Stock Market Success" newsletter.