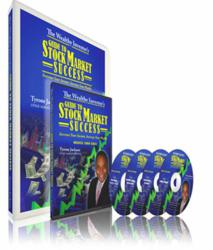 The more you know about how to create wealth by investing in stocks, the more you'll enrich your teenager's life as they move toward adulthood.
New York, NY (PRWEB) June 26, 2013
Tyrone Jackson, The Wealthy Investor (http://www.thewealthyinvestor.net), emphasizes talking to your teens early about managing money. Mr. Jackson's Wealthy Investors Guide to Stock Market Success Audio Series is designed to help both parents and teenagers gain the knowledge necessary to be successful long-term investors.
For today's parents, raising teenagers can be overwhelming. Caring and educating your teen is a full time job with both rewards and challenges. Too often parents leave out money as part of the educational process.
"Talking to your children about the basics of financial planning and investing is not a choice, it's a necessity" says wealth coach and founder of the Wealthy Investor Program, Tyrone Jackson, who is also a frequent TV and radio show guest.
With the economic uncertainty in today's world, knowing how to invest conservatively in stocks can make or break your teen's future. They need to understand how to invest and create wealth. Mr. Jackson adds, "However, you can only pass along the financial education you have acquired as an adult."
In addition to the Wealthy Investor audio series, Mr. Jackson's online workshops demystify the stock market and break down complex Wall Street lingo for the beginner and experienced investor alike.
The Wealthy Investor audio series and online classes are all about helping self-directed investors better manage their long term investments. "Clearly," explains Mr. Jackson, "the more you know about how to create wealth by investing in stocks, the more you'll enrich your teenager's life as they move toward adulthood."
For more information visit: http://www.thewealthyinvestor.net