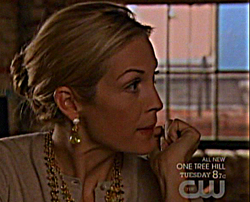 Green gold is one of my favorite stones and Kelly is the perfect figure to carry off such a piece with her class and elegance
Beverly Hills, CA (Vocus) October 5, 2010
From the red carpet with Viola Davis at the opening of The Fences with Denzel Washington to the television fashion hit series Gossip Girl with the beautiful Kelly Rutherford who plays Lily Bass, TZEN has made a fast mark in the fashion industry. In only a little over a year since the brand launched, TZEN's designer jewelry has gained recognition and growth in the fashion industry.
Gossip Girl opens this season with a burst of style with the first episode exploding with Harry Winston diamonds and couture wardrobe from the fashion outlets of Paris. TZEN's perfect addition to this season's fashion is just the beginning. Kelly Rutherford (who plays Lily Bass, the Upper East Side socialite and billionaire) wears the beautiful Green Gold Earrings and Drops Necklace with over 160 carats of the gemstone "green gold" from Brazil. "Green gold is one of my favorite stones and Kelly is the perfect figure to carry off such a piece with her class and elegance," states designer Julie Liu. Rutherford has also layered the Tourmaline Grand 50 Inch Necklace, one of the most versatile necklaces TZEN carries. This necklace is known for being worn in over ten ways on the neck.
"TZEN is classic and beautiful. Jewelry you can wear with anything," says Kelly Rutherford.
Liu gave up her career as a successful hedge fund manager to follow her passion as a jewelry designer in 2009. Trained in quantitative finance with a bachelor's degree from University of California, Berkeley and an MBA from the University of Chicago Booth School of Business, Liu has the business side of the jewelry business under her belt. Expanding from Chicago to New York, Beverly Hills, and Newport Beach, there are now more than a dozen high end boutiques carrying TZEN in just a year. What is surprising is her innate ability to design one of a kind pieces that are couture, beautiful, and sophisticated with the splashes of colors.
"I have always been naturally artistic growing up; putting colors together has been my hobby on the weekends when I got stressed at work" says Liu.
Liu launched Mia Pezzi, her first brand, in 2008 with a collection of one of a kind pieces in solid 18 karat gold and diamond pieces. These range from large cocktail rings to pieces that flaunt gemstones from the family collection that are exceedingly rare and do not exist anymore. "My father used to be a captain that traveled the world and brought back many loose jewels for my mother due to guilty feelings for months of long travel," says Liu. Some of these jewels are so rare, it's hard to find anywhere.
TZEN followed in 2009 with a big hit. Fashion Group International (FGI), a prestigious fashion organization, awarded TZEN a Rising Star Award on September 16, 2010. Former FGI Rising Star winners include brands such as Tory Burch, Monica Rich Kosann, Phillip Lim and Lyn Devon. With celebrity fans such as Viola Davis, Tamara Tunie, Rachael Ray, Kelly Rutherford, Jasika Nicole, etc., coupled with national magazine exposure, TZEN is on a path to an even brighter future in the fashion industry.
"I was shaking with joy when they announced TZEN and felt incredible honor to be given the award from such a prestigious organization," says Liu.
As Liu's mother is a survivor of cancer, Liu's big on philanthropy. The TZEN brand specially designed a breast cancer piece and donated more than 100 pieces (each worth $315) to the Susan G. Komen Foundation in Chicago to raise funds for breast cancer research. She is now working with The Breast Cancer Research Foundation on a national scale to raise more funds with her famous "New Hope" necklace and bracelet that signifies the three stages of cancer.
"It's such a great feeling to see survivors exerting joy from the New Hope necklace and bracelet and to know that we've raised more money for the foundation for further research; Julie is an incredible woman with a big heart," Cara Belvin states, the former Special Events Manager of the Susan G. Komen Foundation in Chicago.
TZEN hopes to bring color into every woman's jewelry collection and is targeting San Francisco, Dallas, and Las Vegas as the next cities for expansion. Her new collection will include green gold gemstones, multi-colored tourmaline, emeralds, rubies and will feature versatile fifty inch necklaces that can be worn more than ten ways. Wedding jewelry are bridal favorites with the True Blue earrings a perfect match for couture gowns.
About TZEN
TZEN is a collection of unique limited collection jewelry made with bold colored gemstones that fuses Italian couture with Asian intricacies. Pieces are meant to take you from day to night and from jeans to gowns. Each piece is handmade and is available in high end boutiques around the United States and online at TZENBoutique.com.
About Gossip Girl
Gossip Girl is The CW hit television series airing on Monday nights paying tribute to the latest high end fashion. With the same costume designer as Sex and the City, Gossip Girl is already taking the lead as the series to watch for the latest in designer couture as well as the juicy story line of socialites and the privileged (Kelly Rutherford as Lily Bass / van der Woodsen, Leighton Meester playing Blair Waldorf and Blake Lively starring Serena van der Woodsen) from the Upper East Side of New York.
###