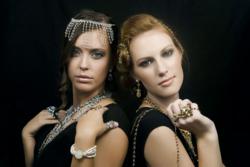 We exhibit individualism and enhance the uniqueness of each woman...
Beverly Hills, CA (PRWEB) November 30, 2011
Gobble gobble is now over and it's that time of the year again to look ahead for holiday/christmas sale shopping. The high end jewelry brand sold in specialty boutiques in New York, Beverly Hills, and Chicago will be gifting a $500 signature ring for the first 50 purchases on the TZEN site. This has never been offered by the company before. The designer Julie Liu is celebrating a very special occasion for the family. Liu will be expecting a baby girl to come May 2012 and is offering this incredible gift with purchase to celebrate the coming of their first child.
Shortly after Liu made the brand TZEN, she won a Rising Star Award from Fashion Group International in 2009. Following that, a slur of celebrity and hit television shows started to wear Liu's piece due to the combination of colors and the flexibility and versatility of each piece. Celebrities such as Blake Lively, Leighton Meester, Kelly Rutherford, Rachael Ray, Chelsea Handler, etc., has worn it on their television hit series or on the red carpet. Liu has created the perfect balance between the couture colors of Italian jewelry with Asian intricacies in the detailing of each piece. All pieces are limited collection to 50 pieces a design.
"We exhibit individualism and enhance the uniqueness of each woman," says Liu.
About TZEN
"Be Bold, Be TZEN" - TZEN Boutique is inspired by fashionable women around the globe. Lush colors, vibrant designs and most importantly, fashion forward designs with a tint of classics. Each piece is carefully crafted and designed by Julie Liu in solid precious metal and gemstones.
TZEN is an award winning collection of unique limited collection jewelry made with bold colored gemstones that fuses Italian couture with Asian intricacies. Pieces are meant to take you from day to night. Each piece is handmade and is available in luxury boutiques around the United States and online at TZENBoutique.com. TZEN is adorned by celebrities like Blake Lively, Kelly Rutherford, Rachael Ray, Tika Sumpter, Chelsea Handler, etc., and on TV series such as Gossip Girl, Chelsea Lately, Rachael Ray Show, WGN, NBC, Behind the Burner, etc. TZEN is a versatile jewelry line with a couture twist.
###