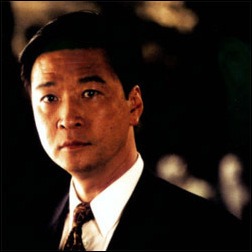 is to try and make them realize. 'This role does not have to be written Asian. The mere fact that you put me in that role makes the character Asian.'
Los Angeles, CA (PRWEB) March 4, 2007
For Tzi Ma, veteran Asian American actor who has sustained a successful career for over 30 years and is recognized as an advocate for realistic and fair portrayals of Asians in the media, this report holds no surprises.
In an interview from RicePaper, Tzi Ma addressed this dilemma noting that the opportunities for asian american actors in starring roles throughout the media is an uphill battle. "It is a long term struggle for the actor who basically has little to no influence on who gets cast in leading roles." He also points out that the lack of diversity amongst writers, directors and producers are also areas that demand more attention.
According to the report, which takes a critical look at diversity on the four major networks, starring roles for Asian Pacific Americans has slightly improved while the hiring of Asian Pacific American writers is still unbalanced in numbers.
In his efforts to improve these statistics Tzi Ma has sought out roles that aspire to illuminate a more realistic portrayal of the Asian/Asian American/Asian Canadian community and not the Asian stereotype. One such role is that of a Chinese immigrant father struggling with his son's racial conflict in Canada in the Canadian mini-series Dragon Boys. And again in his participation in the documentary The Slanted Screen that chronicles the images of Asian Americans and asian stereotype in film and television as early as 1913.
In his earlier interview in RicePaper, Tzi Ma is insightful about the issue of Asian stereotypes and of the limited access to the development of realistic portrayals of Asians in mainstream media. "The only thing we can do," says Ma "is to try and make them realize. 'This role does not have to be written Asian. The mere fact that you put me in that role makes the character Asian.'" He also reveals that ninety-five percent of the Writers Guild membership is "middle-aged, white American male. Don't get me wrong, these are very gifted and talented writers. But when given the task of writing an Asian/Asian American character, unless they have access and friends who are Asian/Asian Americans, they often resort to renting movies for research that offers up a Shake n' Bake of all Asian ethnics into one big asian Stereotype. Then unfortunately, other writers will follow and perpetuate that Asian stereotype into an even bigger one and then we look at the script and think, 'What the hell is this?'"
It is without doubt that Tzi Ma is continuing his efforts to bring about change in the media.
For more information or to view film clips please visit us at http://www.TziMa.com.
###