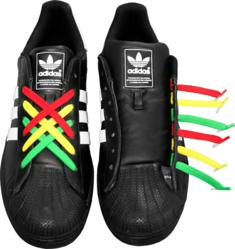 "I created U-Lace to give all consumers easy access to the trend of sneaker customization," said Talley.
Buffalo, NY (PRWEB) May 25, 2011
U-Lace today announced its trend-setting, custom lacing products are now available in the United States. Sold in 22 countries and originating in Japan where it was named the top new fashion product, U-Lace offers the first and only modular shoelace system in the world. Sold online at http://www.u-lace.com and soon within specialty sneaker shops across the country, the stretchy, pop-in laces are available in 24 colors offering countless design combinations. U-Lace products are available in single color packs for $7.99 and multi color packs for $8.99.
With consumer customization at the forefront of 2011 fashion trends, U-Lace offers a quick and affordable way for the artistic-minded to trick their kicks. In the past, lacing aficionados spent hours trying to achieve tediously intricate patterns, but now with U-Lace's versatile design, user innovation can run wild. With trillions of possible combinations, consumers can transform their typical sneakers into a one-of-a-kind look in the same amount of time it takes to tie standard laces. Customers can configure their own unique designs or follow the company's 36+ lacing pattern chart to create colorful looks to coordinate with sneakers, outfits or sporting team colors.
The brainchild of Tim Talley, engineer and former global trend spotter for New Era cap company, U-Lace is specifically designed with perfect amount of stretch to comfortably span a single set of sneaker eyelets. Simply pop the tips of the U-Laces through the eyelets and align the interlocking aglets underneath for a quick, comfortable, custom look.
Talley's idea for U-Lace was born when he was trend spotting in Tokyo and noticed a pair of intricately laced sneakers in the window of a shop. He went inside to examine the lacing construction and realized the shoe was completely filled with the leftover shoelaces, making them impossible to wear.
"I knew right away I had spotted a trend, but after researching the concept, I realized consumers' only option was to spend hours cutting, burning and tying the laces if they wanted to actually wear the shoes," said Talley. "I created U-Lace to give all consumers easy access to the trend of sneaker customization. Using the shoes as a blank canvas and U-Lace as paint, our product has the power to transform a pair of sneakers into a wearable, one-of-a-kind masterpiece, again and again."
U-Laces can be worn on hundreds of sneaker brands but work best on shoes with a padded tongue and a three-piece construction where the eyelets easily lift away from the tongue. For more information about U-Lace or to purchase products, please visit the company's brand site at http://www.u-lace.com
###