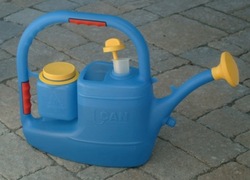 after 18 months, seven design patents, five prototypes and responses from 5,800 gardeners to an online questionnaire.
Topsfield, MA (Vocus) October 31, 2009
The U CAN Brand LLC, a new company creating innovative gardening products, today announced production for its new watering can has commenced and online orders are being accepted in time for the holiday season. Independent nurseries as well as gardeners who enjoy growing their own foods are expected to be among the first users.
The U CAN company was recently featured in The Boston Globe with the owner Jim Ugone recognized for building a better watering can. Specifically, the article noted Ugone as the inventor of The U CAN Watering System, which was created "after 18 months, seven design patents, five prototypes and responses from 5,800 gardeners to an online questionnaire." Shirley Bovshow, a gardening specialist from HGTV and Discovery Home Channel, has also interviewed Ugone about The U CAN for an upcoming show.
The U CAN Watering System is unique in that it conveniently organizes common gardening tasks with an integrated measuring cup and spoon, a place to hold gardening gloves, and a storage post for a removable sprinkler head. The two-gallon capacity U CAN includes a handy waterproof compartment to store any kind of fertilizer and cleverly reminds the gardener when they most recently fertilized. It is engineered to evenly distribute weight while carrying, lifting and pouring. Rubber grips and a textured handle allow for better control.
The U CAN will be on retail shelves of local retailers and garden centers as early as mid-November. Until then, the all-in-one watering can will be available for purchase at the company's website at a special introductory price of $29.95, plus shipping.
The U CAN Brand, LLC was founded in June 2009 by Ugone, president, to innovate and sell affordable, highly purposeful gardening products of excellence. A graduate of the Stockbridge School of Agriculture and The University of Massachusetts, Ugone also earned a master's degree in vocational education from the University of New Hampshire. He taught vocational horticulture for nearly ten years before entering the world of finance. He then began his career of providing financial advice to clients primarily in the green industry, and today remains a passionate gardener.
For more information about the unique The U CAN Watering System, contact: Cyndi Deal, Vice President, Finance & Marketing, http://www.TheUCanBrand.com , 978-887-4191.
###